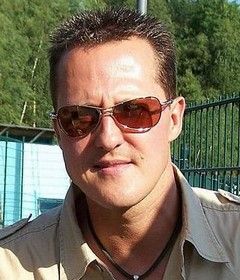 Schuey: about to come out of retirement?
Mercedes may still be hoping to sign Michael Schumacher for an F1 drive in 2010.
As the various F1 teams begin to get their act together for the upcoming season, Mercedes Grand Prix (formerly Brawn GP) is still yet to complete its driver line-up for the 2010 season, with Nico Rosberg currently the only confirmed driver for the team - and it seems Mercedes could still be after one Mr M Schumacher.
Rumours that Mercedes planned to sign Michael Schumacher for a return to the sport have previously been denied by all significant parties, but new evidence suggests the idea has yet to be totally written off.
Though the team is known to have been considering bringing in Nick Heidfeld, Mercedes' motorsport boss Norbert Haug has refused to rule out the possibility of bringing Schuey back into F1 for the team's second season. When German newspaper Bild asked Haug about the recent rumours, he simply replied "who knows?"
Schumacher's own manager Willi Weber is similarly reluctant to count out the possibility, but notes that Michael has just extended his consultancy contract with Ferrari by another three years. Call us unimaginative, but it seems unlikely to us that the same man will drive for Mercedes while consulting for Ferrari at the same time. Even superhuman Schuey may struggle with that level of multi-tasking...