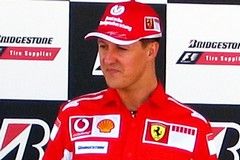 Ferrari president Luca di Montezemolo has said he would release Michael Schumacher from his Ferrari contract if the German race ace wanted to drive for the Mercedes GP team.
Speaking to the Reuters news agency, di Montezemolo also added that, although he had not yet discussed the issue with Schumacher, his contract with Ferrari was "not binding".
The Ferrari boss's comments came after reports in the German media over the weekend suggested Schuey could be heading to Mercedes in a one-year, £3 million deal.
Despite the fact that Schumacher signed a three-year deal this summer to remain an ambassador for the brand, di Montezemolo remained sanguine about the possibility of Schuey's defection to Mercedes.
"It's clear that if he decides to take another road our agreement will no longer be valid, that is logical," he said. "You can't work with a competitor and with us at the same time. I still haven't spoken to him about it. He is only a dear friend, not a team member. He is a consultant for our road cars."