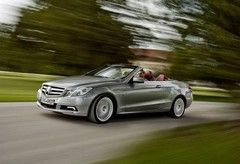 This is the first detailed set of images of Mercedes' new E-class Cabriolet, due for launch at the Detroit show in January.
Soft roofs on convertibles are becoming less common now, ever since Mercedes kicked off the folding-metal party with the SLK back in the 1990s. But the same Mercedes-Benz has chosen to stick with fabric for the roof of its new E-class Cabriolet, the sister of the recent E-class Coupe destined to replace the ageing CLK.
Merc boasts that the 0.9-inch insulated roof is extremely effective, able to withstand an automatic car wash with ease, and so quiet that 'it is possible to have a perfectly normal phone conversation in hands-free mode even when travelling at a speed more than 125 mph' (we'll assume that is not a suggestion for the UK market!). To their credit, the designers have done a decent job of making the roof and frame subtle enough not to disrupt the car's profile too heavily, and it manages a low drag figure of 0.28 (cd), apparently the lowest in its class.
The E is not without its own party piece, though - as well as Mercedes' cosy 'Airscarf' system, a new system called 'Aircap' also adds an architecture of wind blockers and nets designed to move free flow above the occupants to keep things relatively serene when the roof is lowered.
Two engine options will be available at first when the car goes on sale in May 2010. The 3.5-litre V6 puts out 268bhp and 258lb ft of torque, while the range-topping 5.5-litre V8, gets 382bhp and 391lb ft to play with.