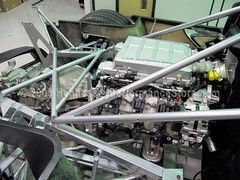 A 262mph top speed and a 4.9sec 0-100mph time are just two of the outrageous statistics being bandied around by Hennessey Performance for its Corvette ZR1-powered Venom GT.
Other eye-opening numbers include a 1000hp claim for its twin-turbocharged LS9 installation, delivered up with a whopping 950lb ft of torque.
With a kerb weight of only 1086kgs it's not surprising the performance figures are expected to be sensational. According to Hennessey's own predictions 0-60mph will come up in a blink-and-miss-it 2.2secs, 0-150mph in 7.9secs and 0-200mph in 14.5secs. Braking should be just as fearsome, with 15ins carbon rotors with 6-piston calipers up front and 14ins carbon rotors with 4-pot calipers at the rear.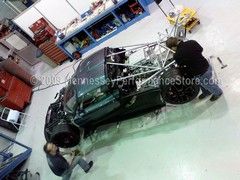 The car is destined for its first public outing at the Geneva motor show in March. Meanwhile a set of workshop pictures have been released by Hennessey which reveal the extent of work involved in bolting a mighty V8 and a six-speed transaxle into a Lotus chassis.
In fact, apart from its Exige-esque rear styling, there seems to be little Lotus derived engineering left from the engine room bulkhead back. Instead an entirely new subframe has been constructed which appears to have been bolted through to the Lotus aluminium tub.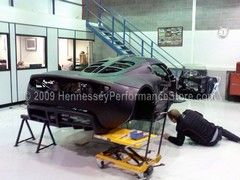 The pictures don't reveal much about the front end, leaving us to surmise the car will arrive with its Lotus underpinnings pretty much intact.
Either way, we look forward to finding out more in March when the Venom GT is finally unveiled - or perhaps before, as the car's creator John Hennessey (founder of Hennessey Performance) has threatened to pay us a visit at the PistonHeads Performance Car Show in January.