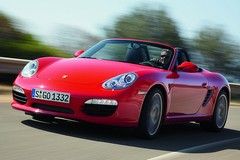 Specialist coachbuilder Magna has felt the first tangible effects of Volkswagen's takeover of Porsche: the German giant has cancelled a contract with Magna to build the next-generation Porsche Boxster and Cayman.
Instead, VW is set to move production of the new models to a former Karmann factory in Osnabruck, which VW bought in November after Karmann filed for bankruptcy.
The move from Magna to Osnabruck is one of the first physical effects of Volkswagen's ownership of Porsche since it got hold of 49.9 per cent of Porsche's sports car business in early December.
The new car, which is due to hit showrooms in late 2011 or early 2012, is likely to share the Osnabruck facility with an all-new VW Golf Cabriolet, or possibly a production version of VW's mid-engined Bluesport Roadster concept.