The Aston Martin DBR9 will be raced by two teams in the new FIA GT1 World Championship in 2010, assuming their entries are rubber-stamped by the organisers.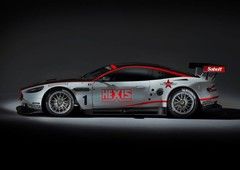 According to Aston Martin Racing, teams Hexis AMR and Young Driver AMR have both applied for entry, and each plan to run two Aston Martin DBR9s in the championship. The entries have been accepted but are subject to final approval by the FIA and the confirmed entry list will be issued in January.
Presumably the announcement implies the FIA technical waiver being sought by Aston
for theDB9R has been granted, but we've not quite managed to confirm that yet.
Cars from six manufacturers are expected to line up on the GT1 grid next year, the others being the Nissan GT-R, Ford GT, Lamborghini Murcielago LP670-4, GM Corvette and Maserati MC12. Each manufacturer will be represented by two independent teams running two identical cars each.
With 10 events on four continents, organisers hope that the new championship will capture the hearts and attention of motorsport fans around the globe.
The calendar for the inaugural season of the FIA GT1 World Championship as approved by the World Motor Sport Council is:
03 Apr Abu Dhabi Yas Marina
02 May UK Silverstone
23 May Czech Republic Brno
04 Jul France* Paul Ricard
01 Aug Belgium Spa-Francorchamps
29 Aug Germany Nürburgring
19 Sep Portugal Portimao
07 Nov South Africa* Durban
28 Nov Brazil Interlagos
05 Dec Argentina San Luis
*Subject to the ASN confirmation
The announcement of the new World Championship will see a change to the existing structure with GT1, GT2, and GT3 classes split into three distinct championships.
The FIA GT1 World Championship is for independent teams and professional drivers, the FIA GT2 European Championship is for independent teams and pro-am driver crews, and the FIA GT3 European Championship is for independent teams and non-professional drivers.