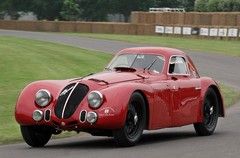 Alfa 8C 2900 B Le Mans
Alfa Romeo will be celebrating its 100th birthday in style at the annual Goodwood Festival of Speed (2-4 July), with a striking automotive sculpture in front of Goodwood House.
With construction work due to commence shortly, the Alfa Romeo 'Central Feature' art installation is set to be one of the most stylish and memorable sculptures ever constructed for the Festival, Alfa says. That's a bold claim considering some of the installation's fabulous predecessors, but Alfa ought to have the flair (and more importantly the 'classic' portfolio) to live up to it.
In addition to the main central installation outside Goodwood House, a stunning display of Alfa cars will be on show at the Festival, the company says. Included among these will be many never seen in the UK, direct from the marque's Museo Storico collection in Milan.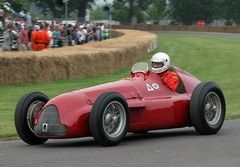 The Alfa 159 'Alfetta'
In fact it is expected that more than 50 important Alfa Romeos will attend the 2010 Festival, ranging from examples of the pre-War P3, Monza, 12C-37 and 2900 B Le Mans, through to the 159 'Alfetta', GTAm, Tipo 33, 185T, 164 Pro Car, and the unique V10-powered SE 048SP Group C prototype. Alfa also hopes that the legendary Brabham-Alfa Romeo BT46B 'fan car' will make a rare public appearance, while on the lawn of the Cartier 'Style et Luxe' concours d'elegance, expect to see a class of Alfa's definitive pre-War flagship, the 8C, including a beautiful 8C 2300 Zagato Spider and 2900A Touring Spider, plus some stunning concepts based on the race-derived Tipo 33.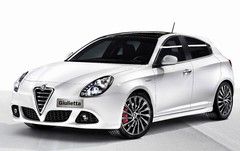 The new Alfa Romeo Giulietta
The new Alfa Giulietta, which goes on sale in the UK this summer, will make its UK public debut at the Goodwood event too.