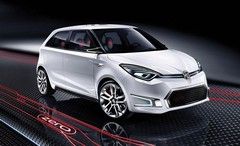 This is the new MG Zero concept, a British-designed supermini that the company's Chinese owners are hoping will tempt you out of your BMW Mini in 2011.
The MG Zero has been unveiled at the Beijing motor show and, according to the official press statement, reflects the latest trends in the market for vehicle size, styling and technology and is designed to show how MG will offer products that will appeal to a wide audience across the global market.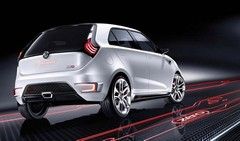 "This concept shows a bold, individual soul," says MG Global Design Team director Tony Williams. "The bonnet is formed around the famous octagonal badge, the graphics flow into striking lamps and the large lower grille completes the confident, sporty character. The body-side has a strong shoulder, a dynamic scalloped feature in the doors and flared arches to give a wide stance and strong road presence. The feature lines have been designed to give a strong relationship to the wheel arch demonstrating the fun nature of the car's dynamics."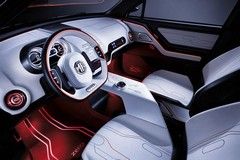 "MG Zero is crucial to the development of the brand globally," adds Guy Jones, MG Motor UK sales and marketing director. "It gives clear direction for the future beyond the current products. We are all proud to see our British-designed vehicle wearing the MG badge creating such an impact in Beijing. With the MG TF back in production in Birmingham, sales increasing and the MG6 coming at the end of the year, the MG ZERO has come at the perfect time to build further awareness and interest in the brand here in the UK."
There's no official word on the engine options that could power the new MG, but Autocar has reported that it's likely to get a new range of four-pots, in 1.3 and 1.5 litre capacities - with a 156bhp turbocharged version also on the cards.