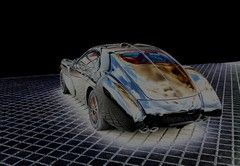 You're looking at 'a new dimension of supercars' according to an intriguing missive sent to
news@pistonheads.com
this morning.
"We have just finished a custom-built, most interesting and fascinating automobile for a discerning Swiss collector," says our correspondent Chris Wuergler from HMC Helvetic Motor Company Ltd.
"Enclosed you will find some initial information and a picture for publication," he adds, promising that more details, pictures, technical specifications and further information on this new Swiss project will follow in the next weeks.
That 'initial information' runs as follows:
"In the Golden 30's the discerning enthusiasts had the most famous coachbuilders build their bespoke dreams on chassis from famous manufacturers. Chauffeur-driven Sedanca DeVille? Open Tourer? Sports- or racing-coupe? Shooting Brake for a little deer-hunting? No problem!
"This idea was taken-up again by a Swiss collector, who has commissioned a fascinating coupe in the most elegant tradition of the 30's, but using the latest Mercedes-AMG-chassis and engine. This project is now nearing completion, and starting autumn 2010 five or six cars will roll off the line every year.
"This automobile is not about the current trend of faster, more powerful, but about pure, unadulterated and relaxed pleasure, offering the most satisfying driving-pleasure, but still allowing to enjoy the excellent performance, comfort and safety-features of Mercedes-AMG. The new supercar experience."
Along with the attached image, that's all we've got to go on for now, but we're taking a wild stab in the dark and assuming the base vehicle is the SLS AMG Gullwing. When we find out more you'll be the first to know...