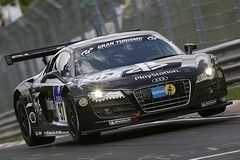 The Monaco GP might be stealing the majority of motorsport headlines at the moment, but don't forget about another legendary race happening this weekend - the Nurburgring 24 hours.
Germany's most celebrated race kicks off on the tortuous Nordchsleife at 3pm this Saturday, although the infamous weather has already played its part - Thursday night's first qualifying session abandoned after three hours of running due to fog.
But whatever the outcome of the qualifying - the second session is due to kick off as we go to virtual press - the race is set to be as entertaining as ever.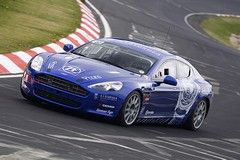 This year there's a particularly wide variety of entries from manufacturers keen to prove the mettle of their, er, metal in one of the world's toughest test of performance and endurance.
This year there is the usual gaggle of Porsche 911s (33 to be precise), with plenty of new GT3 Rs and the new GT3 R hybrid.
Audi is fielding seven GT3-spec R8s, while BMW is also heavily present, with two works M3 GT2s and three Z4 GT3s.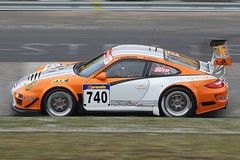 Aston will be there too, with the V12 Vantage and, making its Nurburgring debut, the Rapide saloon
At the quirkier end of the field is Lexus, which is racing two LFAs and one ISF. Weirdest of all, perhaps, is the Mini E electric car to be driven by His Royal Highness Prince Leopold of Bavaria. In fairness, this isn't actually racing, but it is going to be doing a fast lap as a prelude to one of the support races...