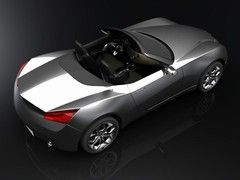 Alfa Romeo is maintaining a healthy interest in the iconic Spider concept, and this little machine is the latest product of some virtual pencil-sucking by design students at the Polytechnic of Milan.
The students were tasked to come up with a new Spider by the Fiat Group, and while arguably not as pretty as the impossible-to-pronounce 2uettottanta by Pininfarina shown at Geneva recently, this version by Alberto Gaiani, Massimo Paparella and Michela Zedda does provide some interesting insights into how a more modernistic Spider could look.
The design retains a traditional front-engine, rear-drive format, pleasingly eschewing the trend to 'hybridise' everything. Otherwise, historical references are thin on the ground, apart from the classic Alfa shield, of course.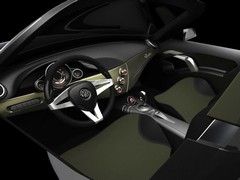 We're not blown away by the exterior styling, we have to admit, but the interior looks quite appealing. Apparently the brief was to simplify the cockpit to its essential elements.
Still, whether you like this particular design study or not, it is reassuring to note Alfa's continued engagement with the Spider concept. Given the rapturous reception awarded to the 2uettottanta, and recent pledges by Fiat boss Sergio Marchionne to shake-up the Alfa brand, who knows where it's all going to lead...