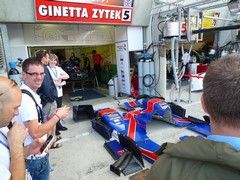 After a smooth and trouble-free qualifying run on thursday night, the calm of the Beechdean Mansell pit garage at Le Mans was shattered with the arrival of 10 very eager and enthusiastic competition-winning PHers - plus one RacingPete and one Riggers tagging along for the blag.
We arrived in the cramped but efficient-looking Beechdean garage at 10am on Friday morning, just as the mechanics were in the midst of replacing the engine and changing second gear.
The sense of intense - and tense - activity was palpable, and the exhortations of Liz Charleston (our quide through the garage) to 'not get upset if somebody tells you to get out of the way' were entirely understandable.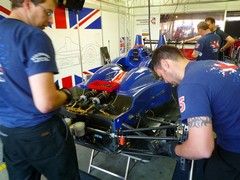 As we filed past the swish new trailer-motorhome of Beechdean Motor sport - which serves as a mobile office and relaxation area for Nige and sons - we were told that the Mansells were not yet at the circuit.
Still, a driverless LMP1 garage remains a fascinating place, especially with such significant work as an engine change taking place. In fact it was quite a tough ask for Liz to prise us all away once we were ensconced - although the promise of a tub of Beechdean ice cream did eventually lure us out.
A big thanks to Liz and all the Beechdean Mansell team for their hospitality and patience - and it's nace to see the PH smiley emblazoned so proudly on the garage walls!