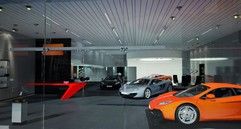 McLaren Automotive has announced the three lucky retailers that will sell the company's new MP4-12C.
The three companies, Rybrook Holdings Ltd, Jardine Motors Group and Sytner Group, will trade under the names McLaren Birmingham, McLaren London and McLaren Manchester respectively.
The UK, along with the USA, is expected to be McLaren's biggest market.
Initial interest in McLaren's carbon fibre, F1-inspired MP4-12C already exceeds the first year's allocation.
A full model range of the two-seat, mid-engined sports cars will be completed by the middle of the decade.
Antony Sheriff, McLaren Automotive's managing director, said: "I am thrilled to announce the relationship between McLaren Automotive and its UK representatives - three of the best car retail businesses in the world.
"We now have the ideal partners in the UK who have enormous experience in delivering extraordinary customer service to help us deliver on those expectations."
The UK retailers will join a global network of 35 dealers in 2011, which will be responsible for selling a planned production volume of 1000 12Cs.
Fans can get a first glimpse of the car at the Goodwood Festival of Speed on 1-4 July.
But don't worry, you won't need to get there early, because all the queues will be for what promises to be the highlight of the entire weekend - the PistonHeads stand... (Not sure that's quite right - Ed)