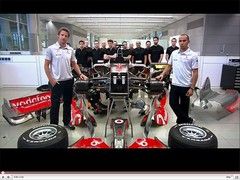 We promise you that today is not a slow news day, but... when we spotted this video on the forums we thought it was worth a little time on the PH homepage.
It's a short video of Messrs Button and Hamilton attempting to put a 2008 McLaren F1 car together - without the help of the usual legion of mechanics, who you can see enjoying a well-deserved cuppa in the McLaren canteen.
Now, we know that the whole vid is a shameless marketing plug for team sponsor Vodafone, and that the whole thing is obviously stage-managed, but it's a fascinating insight not only into how a modern F1 car goes together, but also the dynamics between Jenson and Lewis.
Well worth a watch over a cuppa of your own, we reckon...