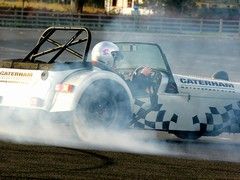 The famed Autoglym PistonHeads Caterham Challenge is back this weekend, giving keen PHers a chance to pit their drifting and general car control skills against some cones and the Tarmac of a Silverstone car park.
Okay, so it's not quite following in the footsteps of Lewis and Jenson, but the Caterham Challenge is still a thoroughly enjoyable way to destroy some rear tyres (that aren't your own).
On top of testing yourself, the three fastest competitors over the various courses will take away a fine bag of goodies, and a free ticket to the APCC 'grand final' at the end of the summer.
And if you've never tried drifty-type stuff before, Caterham will have a team of instructors on hand to make sure that even if you don't leave with any spoils you will at least have had an amazing day and be a better driver.
To join us at Silverstone this Friday please click here to book.