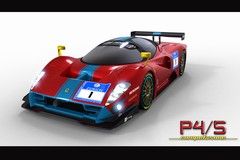 Last week we brought you the build story and behind-the-scenes images of wealthy Ferrari enthusiast
James Glickenhaus's project to create a unique Ferrari endurance racer
; today we bring you a rendering of how that car will look.
The Ferrari P4/5 Competizione - like the Enzo-derived P4/5 Pininfarina special on which the Competizione's styling is based - harks back to the P series Ferrari sports cars of the late 1960s and early 1970s. It will also reveal no evidence whatsoever of the Ferrari F430 Scuderia chassis and F430 GT2 running gear that have sacrificed themselves for its creation.
As the image shows, the P4/5 C gets a more agressive front splitter than the 2006 Pininfarina P4/5, and will also be treated to a sprinkling of styling cues from the classic P3/4 and 412P Ferrari sports racers.
And for those wondering why Mr Glickenhaus has had to cull a Scuderia and a GT2 race car in order to make the P4/5 C, there is method in his madness: once he's done racing, James wants to make the P4/5 C road legal. And to do that in the US you need a road-legal donor vehicle - hence the death of the Scuderia.