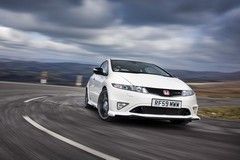 Forthcoming emissions regulations are set to kill off another British-built, Japanese-engined Performance car - the Honda Civic Type R.
Seemingly not content with killing the Toyota-engined 1.8-litre Lotus Elise and Exige, the coming of Euro 5 regs means that the Swindon-built Civic Type R will die - at least as far as European markets are concerned - in December.
Production for UK and EU-bound Type Rs ends in October, although Swindon will continue to make them for South Africa and Australia.
The current Type R hasn't exactly been the darling of critics - who panned its torsion beam rear suspension and general not-as-good-as-it-ought-to-have-been-ness - but it has been popular, with more than 12,000 Type Rs sold in the UK since January 2007.
It's always sad to see a screaming VTEC motor die, too - even if it does mean you'll get £2230 off a Type R GT (making it £19,495) as part of the run-out deal.
We just hope that Honda doesn't get all silly with the next Civic Type R (an all-new Civic is due next year) and make it a hybrid, or something similarly irritating...