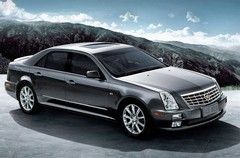 It's the collaboration that certain strata of US society would no doubt be keen to set up a lynch mob for - Cadillac is sponsoring a documentary made by the Chinese communist party.
Depending on how you like to translate your Chinese, it's either called The Great Achievement of Founding the Party, or The Birth of a Party and charts, in an entirely unbiased way of course (ahem), the rise of the communist party in China.
Apparently, GM is using this to publicise the new Cadillac SLS - a long wheelbase version for the SLS.
Still, it might generate publicity for the car, but a luxury sedan and a communist-sponsored documentary make strange bedfellows. After all, the SLS is hardly an expression of egalitarian communist ideals, while Cadillac itself seems to be sponsoring almost the complete antithesis of its of ideals.
Then again, perhaps it's the ultimate expression of American capitalism, GM simply saying: 'sod the politics and let's make some money'.