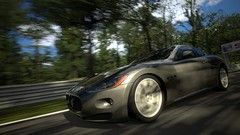 A GranTurismo in, er, Gran Turismo
Gran Turismo 5 is vying for the dubious honour of 'most delayed computer game ever', with news that its latest scheduled release date of early November has been pushed back to 'sometime before Christmas'.
The eagerly anticipated fifth iteration of the iconic PlayStation racing simulator had originally been slated for release in summer 2008, then March 2010, then November.
With such delays, one can't help but draw odd parallels between Kazunori Yamauchi, GT's creator and a legendary petrol head, and Guns 'N' Roses frontman Axl Rose - whose last album, Chinese Democracy, took almost a decade to complete. Let's hope Yamauchi-san doesn't take that long. Although from the sound of it, he's pretty embarrassed about the whole thing.
"Apologies for the delay," said Yamauchi via Twitter. "It's because time and labour were spent ironing the kinks out of [the game's] complex system. I'm really sorry. Everyone, it's inexcusable... Wait a little longer."
| | |
| --- | --- |
| Yamauchi-san | Axl Rose |