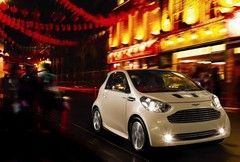 You have to admire Aston Martin for its chutzpah in
building the Cygnet city car
even if - like us - you find it hard to square a Toyota-based city car with Aston's brand image.
Aston even goes so far as to call the Cygnet a model in its own right - rebuffing assertions that the car is essentially a re-trimmed, re-nosed Toyota iQ (we say 'hmmm' to that...).
If you're still unconvinced (like us) that the Cygnet is a pukka Aston, then allow the case for the defence to be heard. And in the witness box? None other than Aston's biggest guns, CEO Dr Ulrich Bez, and design boss Marek Reichman.
You can listen to their arguments in full on the video, but the essence is this: "Cygnet is a small, luxurious Aston Martin, tailor-fit for the city," says Reichman.
And this is what Dr Bez has to say: "Aston Martin is honest. And we don't make compromises. So whatever we do, we have to do right. If we do performance, we do performance and don't downsize, and if we respect the needs of emissions and space, we're going to do it without compromise in Cygnet."