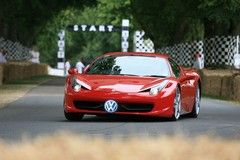 Not what a VW-Ferrari would look like
Reports in the German press have suggested that VW's chairman, Ferdinand Piech, is eyeing up Ferrari to join the VW Group's already gargantuan stable of brands.
It's already on record that Piech wants to bring Alfa Romeo into the VW Group but, according to Manager Magazin, Ferrari is "the real object of his desire".
It's not as ridiculous as it sounds, either. Ferrari is worth around £2.6bn and VW has around £16bn of cash, so the funds aren't an issue. And Fiat has form with selling stakes in Ferrari - it sold 34 per cent of the Prancing Horse to Italian investment bank Mediobanca in 2002, though has since bought that back.
Crucially, though, Fiat CEO Sergio Marchionne isn't against doing the same again - he even said in September that opening up Ferrari shares to the general public was a possibility. In that context, selling a stake to VW almost seems likely. Opening shares to a public offering would of course also open the door to VW...
Whether Ferrari would fit into a portfolio that includes Bugatti, Porsche and Lamborghini is somewhat less certain. But when Dr Piech has his eye on something who knows what could happen...