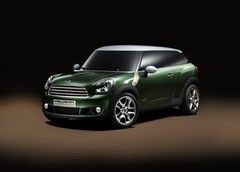 Continuing its theme of slightly awkwardly named new models, Mini is set to unveil this - the Paceman concept - at the Detroit motor show in January.
Based on the Countryman SUV, the Paceman is, says Mini, the "first Sports Activity Coupe (SAC) in the premium small segment of the market." Bearing in mind that, in BMW speak, SAC is the acronym that's guilty of creating the X6, we rather hope that the Paceman remains the only small SAC out there.
Apparently, the Paceman combines the "classical Mini concept with the defining features of the Mini Countryman and the style of a coupe" and that the result is a Mini with "visual 'muscle car' design cues, displaying its dynamic capability from every angle."
Translating that into English, the Paceman is actually basically a Countryman without the rear doors.
Beneath the bodywork is Mini's John Cooper Works version of its 1.6-litre twin-scroll turbocharged engine, pushing out 207bhp and 192lb ft of torque, with up to 207lb ft available in brief spurts with the Overboost function.
As with the Countryman, the Paceman gets Mini's ALL4 permanent all-wheel-drive system. In normal driving conditions up to 50 per cent of the drive is sent to the rear wheels, but in extreme situations as much as 100 per cent can be directed to the rear. The Mini Paceman is also available with two-wheel drive.
Mini says that no official decision has yet been made about the future of a car, but that the Paceman could "form yet another building block in the development of the Mini brand". Which we think means they might build it.