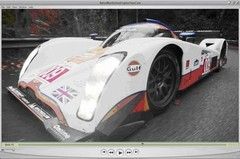 Aston Martin has signed-off the career of its 2010 DBR1-2 LMP1 car with a rather lovely new video of the racer running (metaphorically at least) hand-in-hand with its road-going sibling the V12 Vantage.
If the two cars were people we'd call this video shot amongst the autumn leaves at the JCB test track (yes, that JCB!) slushy and sickeningly sentimental.
Yet somehow the twin V12 soundtrack elevates the film to something altogether deeper and more spiritual... or to put it another way, pure automotive pornography. Get in!

(Or as Aston Martin themselves rather boringly put it: "This unique footage captures these two iconic road and race cars in action for the first time in an unconventional road setting.")
On another note, we've also been tipped off that Aston Martin's new iPhone app is available free from the App Store today.
Called Aston Martin Explore, the app offers such delights as a virtual tour of the Aston factory, and engine noises from the entire current line-up as they're driven on the race track. We've not tried it ourselves yet, but apparently it makes revvy noises when you waggle your phone. Sounds like a 'must have' to us.
P.S. Who can tell us anything about the JCB test track?