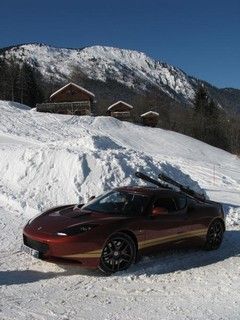 There's been a distinct urge to dust off our dickie bows and search out the ol' Walther PPK today after we spotted
this rather natty Lotus Evora in the PH classifieds
.
If you haven't guessed already from our ham-fisted hints, this brown 'n' gold Evora, complete with ski rack, is an update of the Esprit from For Your Eyes Only.
When this car first appeared in public around a year ago, there was speculation that it was due to star in the 23rd James Bond movie. That was never confirmed either way, but since production on that film was mothballed until very recently, it looks as if any chance the Evora had to hit the big screen has passed.
But according to the chaps at Lotus Silverstone, who are selling the car, the James Bond Evora may never have been destined for hollywood anyway - it was actually created by Lotus ostensibly for marketing purposes, and made a tour of dealerships and various other promotional activities before coming to rest at Lotus Silverstone.
If you fancy indulging your own 007 fantasies, or simply like the idea of a ski trip in a Lotus, the car is up for £44,995 - which is about the going rate for an Evora of its age and mileage.