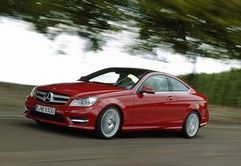 Mercedes has unveiled full details of its new C-class coupe ahead of the car's in-the-metal launch at the Geneva motor show in March.
The new two-door C-class will go on sale in June, with prices starting at around £30k.
With the E-class coupe having moved a little further upmarket, the new two-door C-class is effectively the replacement for the old CLK, sharing a platform and running gear with recently updated C-class saloon and estate.
Two diesel and three petrol engines will be available from launch in the summer, ranging from a 152bhp four-cylinder 1.8 to the 302bhp 350CGI V6.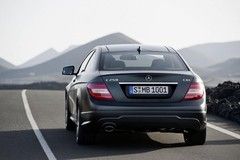 AMG fans will have to wait a little longer, it seems. There's no official word on an AMG version as yet, but it's widely reported that an AMG C-class coupe will be on sale towards the end of the year, possibly making a motor show debut in late spring.
Rumour also has it - though again we have no confirmation - that the AMG C-class will get neither the 6208cc naturally aspirated V8 from the C63 AMG saloon and estate nor the 5.5-litre twin-turbo V8 of the CLS63 AMG. Instead, word on the (web) street is that a non-turbo version of the new 5.5 will be fitted.
Until the AMG arrives, UK buyers will have to console themselves with the knowledge that all Blighty-bound C-class coupes come with an AMG Sports pack as standard, with lowered suspension, 18in alloys and a bodykit.
Another 'wait-and-see' issue will be how the C coupe manages to differentiate itself from the E-class coupe.
Both have similar dimensions and offer similar powertrain options and, although Mercedes hopes the E-class will appeal to more 'mature' buyers and the C-class to younger folk, it's going to be interesting to see how sales pan out.
The range of engines for the C-Class Coupé at a glance:
Model*
Cyl.
cc
hp at rpm

Nm from

Rpm

0-62 mph

Top speed

kph

MPG

NEDC comb.

CO2

g/km

C 220 CDI BE
4/in-line
2143

170

3000

400

1400

8,1
(8,4)
231
(232)

53.2 – 57.6

(55.3 – 64.2)

128-139
(117-133)
C 250 CDI BE
4/in-line
2143

204

4200

500

1600

7,1
(7,0)
240
(240)

53.2 – 57.6

(52.3 – 57.6)

128-139
(128-143)
C 180 BE
4/in-line
1796

115/156

5000

250

1600

8,8-9,0
(9,0)
223
(225)

40.3 – 43.4

(38.6-42.1)

150-162
(157-169)
C 250 BE
4/in-line
1796

204

5500

310

2000

7,2
240
40.3- 40.3
152-163
C 350 BE
V6
3498

306

6500

370

3500

6,0
250
40.3 – 41.5
159-164
BE = BlueEFFICIENCY, * figures for automatic transmission, manual transmission in brackets