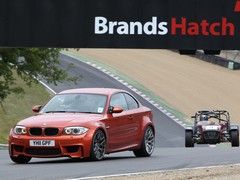 BMW's M Division offerings have never really been the ultimate in track-tastic fun, but a good M car, we reckon, should at least feel at home on the circuit.
After all, the original M3 was literally a race car for the road - so some sort of affinity for the track ought to be embedded deep within an M car's DNA.
Thus when we worked out that our compressed-time tenure of the 1- series M coupe would coincide with a day on the Brands Hatch GP circuit run by our track day partners, the fine folks from Bookatrack (book your very own PH Bookatrack day here now) it was an opportunity that it would have been genuinely rude to miss. Especially since it was open pit lane and so would represent plenty of time to sample the more rarely opened parts of Kent's finest circuit (er, surely you mean 'plenty of time to thoroughly assess the 1-series M's on-track ability'?? - Ed)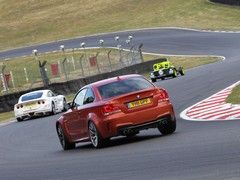 Unfortunately, however awesome the circuit is (and Brands GP is surely up there with the best in the world for drama and challenge), the 1- series M ain't all that on track. And that's a bit of a disappointment.
On reflection, perhaps we should have seen the 1M's weaknesses coming. For all its awesome B-road ability, that short wheelbase, coupled with the fact that it's actually quite compliant on the road makes for slightly odd behaviour on the track.
Driving the 1M on track you basically feel as though you're perched on the back of a vaguely recalcitrant horse. There's loads of grip, but there's also more body roll than you would have expected, and the short distance between front and rear wheels (and perhaps more crucially suspension) means that the 1M gently bounces and bucks around long corners, never quite feeling settled and composed on track in the way a car like the M3, with its longer wheelbase, does.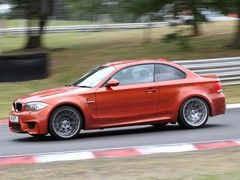 You could make the 1-series M into a mighty track machine, no doubt, simply by bunging in some rather more hardcore suspension (and the brakes would want uprating, though that would be a simple-enough task), but that would undoubtedly be to the detriment of its on-road manners.
And besides, even if you did all that you would still be left with the unavoidable fact that the twin-turbo'd straight six, for all its monumental shove, lacks the progressive nature of a highly strung naturally aspirated unit. Put simply, an engine whose power and torque arrives in such a sudden dollop, whilst it might be great for on-road driving, really isn't that easy to manage on track - even if that shove then continues in an apparently unending surge all the way to the red line.
No; better to revel in the 1M's astonishing cross-country pace and its ability to despatch with whole streams of slow-moving A-road traffic at will, and maybe save the circuit shenanigans for something a bit more track-focussed.
Pictures courtesy of Bookatrack.com
1-series M zip files Part One
1-series M zip files Part Two
| | |
| --- | --- |
| We've had the 1M sufficiently long for Riggers to start growing a beard... | ...see? |
|   |   |