Monday 5th December 2011
PH BLOG: SO LONG AE86, IT'S BEEN FUN
The man from Toyota has taken the Corolla away, which is probably for the best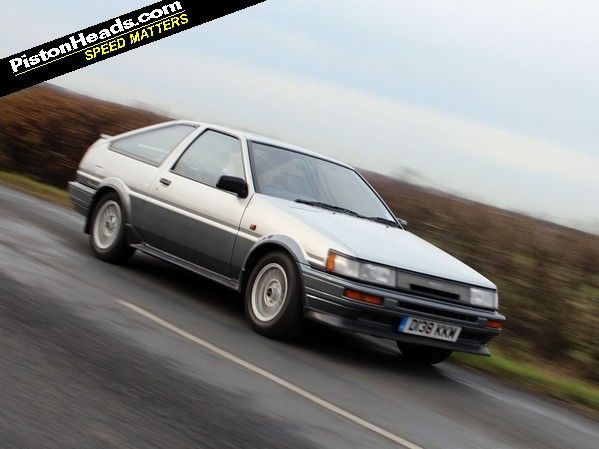 So, as you will have guessed from
my blog on Friday
I have very much enjoyed my four days with Toyota's heritage fleet AE86. The more for the fact it was a car that had previously passed me by completely.
It's a proper cult car too, which is why we'll be giving it the proper PH Hero treatment in due course. But before I drove this car almost exactly a year ago on another story I'd have been a true "but it's an 80s Toyota Corolla!" doubter.
Approaching a car with zero - well, less than zero - expectation and then discovering it to be something rather wonderful is all the more satisfying too. Let's face it, the ingredients don't sound too promising. 80s styling. Velour seats. 1.6-litre engine. Live axle. But what the AE86 fans already knew and I discovered in a very short space of time was that this was a car with real charm. Not something I'd have ever associated with Toyota. And not a car I'd have expected camera phones to be turned on at traffic lights or 'is it for sale?' speculative emails. Sorry Baz - good luck with the search.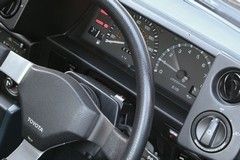 It's very keen for this to happen
Blasting around Milton Keynes was such a giggle too. The engine is a beaut, a zingy, revvy little number that thrives on revs and responds instantly to the throttle. Shades of
my Eunos
there of course. And what it lacks in power and apparent sophistication it more than makes up for in fun. You can see where this is headed too can't you. Yes, here comes that inevitable 'I hope the
GT 86
has even a scrap of this' comparison. No prizes for guessing why Toyota went to so much trouble to source an immaculate AE86 for the press fleet, eh?
I even met up with a jetlagged but gleefully excited John Simister, fresh from driving the new '86. Reminiscing that the last time he'd driven one of these things was back in the day at Donington he confirmed that, yes, the modest power and grip and bags of character thing has been carried over into the new car.
And like many who've responded to the story I think this is a great thing. You'd expect an MX-5 advocate to say as much but I fully agree with the growing sense that performance cars have gotten too obsessed with horsepower and outright grip at the expense of fun.
I am of course a hypocrite and if Subaru does as I'm hoping, blinks first and releases an STI version with a bonnet scoop and turbo I'll be first in the queue for a go.
Dan