Friday 23rd July 2010
PIC OF THE WEEK: WRC JUMPS OF JOY
POTW is gettin' some serious air, as skaters would say...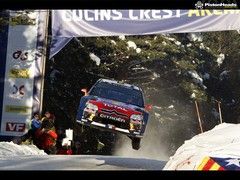 Click to preview
There are those who moan about the WRC. It's too boring, they say. Bring back the spectacular days of Group B, they say.
We'll be the first to admit that they have a point – the sport is dominated by a handful of manufacturers and, undoubted superstar though Sebastien Loeb is, he has kind of made the outcome of rallies predictable – by winning most of them.
Still, to remind us that pointing a car containing a deranged wheelman and a passenger who doesn't know the meaning of the phrase 'motion sickness' at a tree-lined track can still produce spectacular results, Citroen has kindly revealed to us its top 10 favourite jump shots.
Seb himself managed to chuck his C4 a magnificent 85 metres into the air at the rally of Turkey in April, though that sadly wasn't captured in pixel form. Here, though are the shots that Citroen has chosen as its favourites.
We've picked one from this year's Rally of Sweden as our POTW, not for its height but for the fact that he's actually got a dab of oppo on the go in the middle of a jump. Troy Queefwould be proud of that one…
Normal (1280x1024)
WideScreen (1440x900)
SuperSize (2048x1536)
Join Pic of the Week on Facebook