Friday 30th July 2010
PIC OF THE WEEK: A RALLY GOOD MINI
A POTW for Mini fans, Rally fans, or just those who like black and white photos...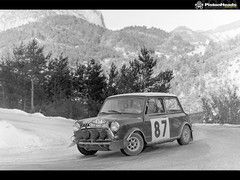 Click to preview
Today's POTW was a bit of a no-brainer. In a week where
Mini officially announced its return to rallying
, a BMC-based nostalgia trip was all but inevitable.
The news that Mini was coming back with a Prodrive-run WRC team had us immediately all rheumy-eyed for the halcyon days of the 1960s, when the plucky Mini took on the likes of Lancia, Porsche and V8 Fords - and won.
This shot is taken from the 1968 Monte Carlo rally, where Rauno Aaltonen and Henry Liddon took third place behind two Porsche 911s. We particularly like the flanges (for want of a better word) on the front wings of the car, even though we have no idea what they are. We think they're probably snow guards off some sort, but they almost look like a rudimentary aerodynamic aid...
Normal (1280x1024)
WideScreen (1440x900)
SuperSize (2048x1536)