Friday 20th August 2010
PIC OF THE WEEK: LAMBO BY NIGHT
A green Lamborghini, Chelsea Bridge, and a whizzy red bus. Lovely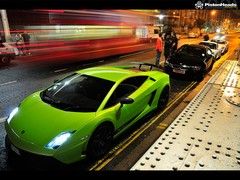 Click to preview
We've probably bored you to tears going on about the
supercar convoy from London to Wilton House last weekend
, but it was bloody good fun, so please indulge us a little more...
It also gives us the perfect opportunity to chuck a few more supercar pics in your direction (see below - and to give this gorgeous, whizzy piece of night-shooting the credit it deserves as POTW
Besides, we haven't yet told you how the boys in blue took to us revving our way around central London at 4 o'clock in the morning (not well, despite us being on our best no-speeding behaviour), nor how they took particular umbridge to our Lamborghini Gallardo's Italian numberplate and tax disc. Or how one wag shouted 'you've got a small c*ck' through the open window of the Gallardo as we trundled through Picadilly Circus...
Then there's the more-or-less-always awesome sight of a Bugatti Veyron - especially when it launches itself away from a set of west London traffic lights in a 0-supersonic sprint that seems right on the edge of the laws of physics.
We also haven't mentioned how we discovered the best way to bring Fleet services on the M3 to a shuddering, gawping, gridlocked halt (just add 100-plus supercars to the car park and stand well back). Or how driving up the gravel drive lined with five-deep spectators as we arrived at Wilton felt like a 1980s Group B rally stage, only in slow motion.
Have we told you that it was good fun yet...?
Normal (1280x1024)
WideScreen (1440x900)
SuperSize (2048x1536)
Join Pic of the Week on Facebook
Main pic: George Williams