Friday 3rd September 2010
PIC OF THE WEEK: SENSATIONAL SENNA
Monte Carlo acrobatics from Ayrton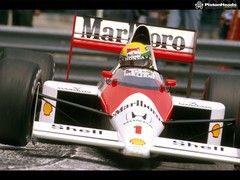 Click to preview
A rather gratuitous one this, but one surely needs only the flimsiest of excuses to publish a picture of Senna 'on it'? And it's even better when he's hammering around the track where he shone the brightest - Monte Carlo.
So the trailer for the forthcoming Ayrton Senna biopic that we've been talking about this week presented the perfect POTW opportunity.
This particular shot catches Senna on the way to victory in the 1989 Monaco Grand Prix - one of six wins on the legendary street circuit - in his McLaren Honda. Wonderful.
Normal (1280x1024)
WideScreen (1440x900)
SuperSize (2048x1536)