Friday 10th September 2010
PIC OF THE WEEK: LAMBORGHINI FAENA
Keep your Rapides and Panameras, we'll take one of these...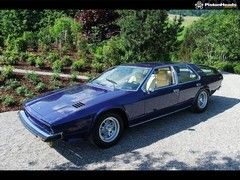 Click to preview
A collection of Lamborghinis will be gracing one of Europe's best classic car events - the Bensberg Classics in Germany from September 10 to 12 - including some rarities belonging to private collectors.
One of the stars at the Concours d'Elegance on Sunday will surely be this Lamborghini Faena. It's a rather special one-off from 1978 by Carozzeria Frua and is a car which, until this picture plopped into our mailbox the other day, nobody here at PH Towers had even heard of.
The Italian coachbuilder extended the wheelbase of a Lamborghini Espada by 180mm, thus creating space for a second pair of doors and making the Lamborghini Faena one of the forefathers of today's four-door supercars like the Porsche Panamera and Aston Martin Rapide. And it's unarguably gorgeous, too. (Oh yes it is!)
Apparently it premiered at the 1978 Turin Auto Show, and is now in the care of a Swiss collector - the lucky blighter.
Normal (1280x1024)
WideScreen (1440x900)
SuperSize (2048x1536)