Friday 17th September 2010
PIC OF THE WEEK: GOODWOOD REVIVAL
Mmmm... 1960s sports car goodness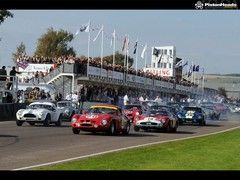 Click to preview
It could be a bitter-sweet POTW for some today. It's the Goodwood Revival this weekend (which is pretty sweet), but the event is sold out for Saturday and Sunday (which, if you don't have a ticket but want to go, will probably leave you a little bitter).
In fact, the only day not sold out is, er, today (Friday), which is a bit late if you're reading this from your office PC.
Still, if you're one of 128,000 or so people who are going, then this photo should whet your appetite for the spectacle of tens of millions of pounds-worth of historic racing cars pounding around the magnificent circuit.
And if you're not going, well, there's always next year...
Normal (1280x1024)
WideScreen (1440x900)
SuperSize (2048x1536)