Friday 24th September 2010
PIC OF THE WEEK: JAGUAR D TYPE
When it comes to dream garages, Smiley's sorted!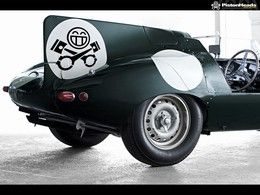 Click here to preview
When PH Smiley was but a wee lad, he dreamed of having a D Type Jag tucked away in the garage. Didn't we all?
Now he's grown up and made a bundle in investment banking, he's decided it's finally time to indulge that youthful fantasy. (He's not getting any younger, and b*gger the kids' inheritance. Let the little blighters work their own fingers to the bone like Smiley had to, etc...)
And here's the result. That multi-million pound warehouse conversion in the City has plenty of room for a 'garage level', and there sits Smiley's latest pride and joy.
Well, virtually - you're never too old to dream, after all...
Normal (1280x1024)
WideScreen (1440x900)
SuperSize (2048x1536)
(Picture by popular request!)
Sans-Smiley
Normal (1280x1024)
WideScreen (1440x900)
SuperSize (2048x1536)