Friday 11th February 2011
PIC OF THE WEEK: HAPPY 50TH, JAGUAR E-TYPE
Half a century of automotive beauty. Definitely worth a POTW...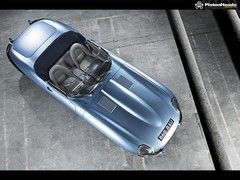 Click to preview
Like we said earlier in the week, it merely takes the flimsiest of excuses fro us to post up a nice pic of a Jaguar E-Type, and the
news that Coventry City FC is to host a display of 50 E-Types
in April was all we needed.
But a mere news story photo, we felt, was not sufficient to do proper justice to a car whose lines are so revered it's been on permanent display in the New York Museum of Modern Art since the mid-1990s.
So here it is, the same picture again, but in full POTW technicolour glory (and without that darned PistonHeads banner spoiling the rear end). Enjoy...
Normal (1280x1024)
WideScreen (1440x900)
SuperSize (2048x1536)