Friday 11th March 2011
PIC OF THE WEEK: AUDI AND MICHELE MOUTON
Rallying's First Lady has been promoting the new RS3. We prefer to think of her doing this...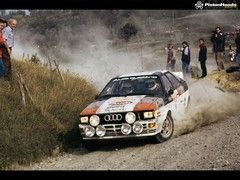 Click to preview
'Still the best'. This was Michele Mouton's pronouncement at the end of a deeply cringeworthy promotional video for the
Audi RS3
that we were shown earlier this week in the pre-test drive press conference at the car's launch in Monaco.
The idea, presumably, was to emphasise the link between Audi's glorious rallying past and its latest RS model - using the legendary rallyiste, holding the launch in a famous rallying town, etc. But the effect was to highlight just how far Audi has moved from those original early 1980s rallying heydays.
For while Mme Mouton - who was runner-up in the 1982 World Rally Championship, let's not forget - made her name furiously pedalling an Audi Quattro around the world's special stages, the car itself was changing the face of rallying forever.
Thirty years on, the RS3 is a far more sober, less game-changing proposition, and Mouton is older, more corporate - she was even wearing a suit in the video we saw. Oh, and the Monte Carlo rally is no longer a WRC event.
Still the best? Michele, you will always be a legend, but steer clear of the corporate videos, please - we prefer to think of you doing this (on the way to fourth place in the 1982 San Remo rally).
Normal (1280x1024)
WideScreen (1440x900)
SuperSize (2048x1536)