Friday 8th July 2011
PIC OF THE WEEK: THE 24-LITRE NAPIER-RAILTON
When racing drivers were men and their mounts were, er, elephants?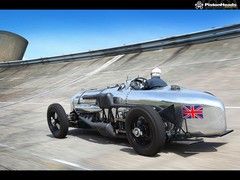 Click to preview
The 6.0-litre W12 that graces the under-bonnet regions of a Bentley Continental GT (and until recently the odd VW Phaeton) might seem like a rather chunky engine (and it is). But it is as nothing compared with the dubya-engined beast that
Classic & Sports Jacket
's Mick Walsh has been driving for the latest issue.
(C&SC usually looks great on the coffee table, but this month's is a corker. Ed.)
The Napier-Railton that is featured in the latest issue of said journal is truly a monster. Built between 1932 and 1933 by John Cobb, this 24-litre beast was fitted with a 24-litre W12 engine, rated at 502bhp at 2200rpm, and with a scarcely comprehensible 1184lb ft of torque. Enough to push it to a top speed of 167mph.
It is also the car that holds the Brooklands Outer Circuit record, set in 1935 at a truly astounding 143.44mph. And if that ain't worth celebrating in Friday wallpaper-style, we don't know what is.
Normal (1280x1024)
WideScreen (1440x900)
SuperSize (2048x1536)