Thursday 9th August 2012
SPOTTED: ALFA ROMEO GT AUTODELTA
Rare Autodelta tuned Alfa GT gets Harris excitable, and a little bit cross too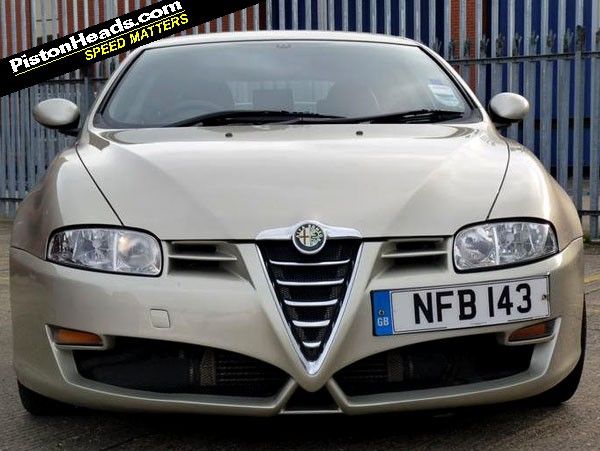 Being asked to write someone else's 'Spotted' is an enlightening exercise. The always-busy Dan now has about 10 jobs to do because dear Riggers has moved to
pastures new
(best of luck old bean), and he asked if I might write something about an interesting Alfa in the classifieds, following a tip from PHer Ian Bond.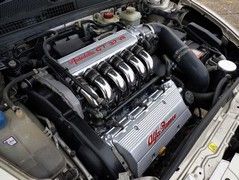 Still one of the best looking engines ever
So here it is, a supercharged Autodelta Alfa GT. And I'm now going to tell you how much it makes me want to reach for my wallet.
Well, the GT is a great looking machine - to these eyes more elegant than the Brera because its wheelbase matches the styling, where the breadvan's stunning visage is ruined when you peer round to the side and see they plonked it on an Austin 1100's footprint.
A good start then: pretty face.
The power figure looks, how can I put this, interesting. I have no reason to doubt the claimed 400hp and 375lb ft of torque. Nor that they will propel this little car with some urgency - but I'm wondering what 400hp must feel like in a front-wheel drive Alfa, even one with an LSD fitted. The word 'shambolic' keeps ricocheting around in my head.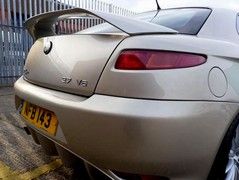 Wing and valance not as appealing as power
In fact the more I look at this advert, the more it makes me angry at Fiat for allowing Alfa Romeo to become wrong-wheel drive. Just imagining what this car would be like if it was rear-driven is enough to ferment that emotion into outright anger.
I'd probably leave the aftermarket rear valance-bumper-thing too, but that's just personal taste.
Still, it's an interesting car with massive power for not much cash. And it looks great. From the front and the side.
But this exercise teaches us two things. First, from an editorial perspective, do not attempt to write another man's Spotted. One man's oyster is another man's fetid sexual effluent packaged in an exoskeleton. (I think Chris is saying we have differing tastes... - Ed.)
Second, I'd take this instead, every day of the week. A lovely 75 V6. Just find some original alloys, remove the rear wing and take it to Autodelta.

---
ALFA ROMEO GT 3.7 AUTODELTA
Engine: 3,750cc V6
Transmission: 6-speed manual, front-wheel drive
Power (hp): 'over 400'@7,200rpm (claimed)
Torque (lb ft): 375@4,750rpm (claimed)
MPG: 22.8mpg (NEDC combined, pre-modification)
CO2: 295g/km (pre-modification)
First registered: 2004
Recorded mileage: 49,000
Price new: £26,695 (basic list price, Autodelta upgrades extra)
Yours for: £12,000

See the original advert here.