Monday 13th August 2012
BIKES VS CARS UP PIKES PEAK
Carlin Dunne's Ducati just seconds off the pace of overall winner Rhys Millen in stunning climax to Pikes Peak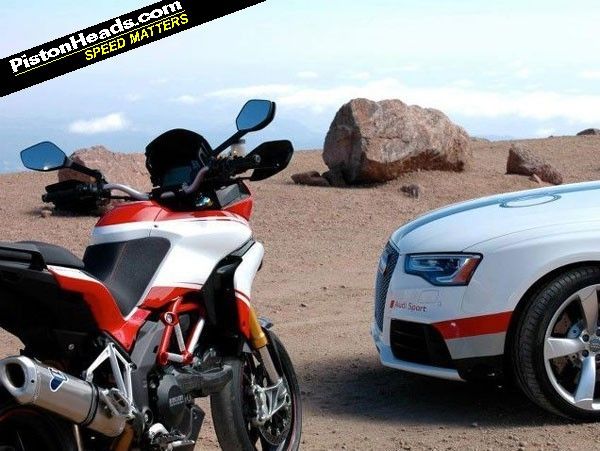 The mid-life crisis motorcycle purchase is an established rite of passage, played out at a corporate level with Audi's acquisition of Ducati. Feeling bit grey, boring and middle-aged? Go out and
buy a noisy Italian motorbike
! Job done.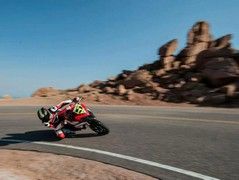 Tarmac means bikes now closing on cars
Now to the marketing department to create that previously unrecognised brand synergy, the location for this four- and two-wheeled culture clash being ... Pikes Peak! So that was the reason for all that
teaser activity
before this weekend's race... The results of Audi's latest love-in with a racy Italian can be seen in the
video here
and very swish it is too.
But the real interest has been in the race proper, which took place over the weekend amid various weather-related stoppages. Happily for Audi and Ducati one of the big stories this year has been that the bikes as well as the cars have now cracked the 10-minute barrier, Ducati successfully defending its two-wheeled title and Carlin Dunne coming in third place overall - that includes cars - on his 1200 Multistrada with a 9:52.819, not far off the 9:46.164 winning time of Rhys Millen in his Time Attack class Hyundai Genesis. Romain Dumas in the 911 GT3 R was just fractions back, recording 9:46.181. Given that Dunne's class-winning time last year was 11:11.329 goes to show what a difference the new tarmac course has made to the times, the margin suggesting that an overall win for a bike may well be possible in the not too distant future.
Meanwhile the best the electric cars could manage was 10:15.380 and sixth place for Fumio Nutahara in the Radical-based Toyota EVP002 (a development of its Nurburgring record car), 'Monster' Tajima retiring after an electrical fire put his Monster Sport Pikes Peak Special out of action.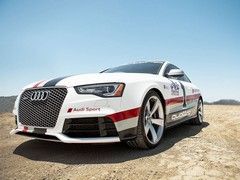 Official Audi involvement limited to liveried RS5
Which sounds dramatic but was nothing compared with the horrifying crash for Mitsubishi Evo driver Jeremy Foley and co-driver Yuri Kouznetsov, who cartwheeled down the mountain at Mile 16. There is footage and it'll make your blood turn cold but according to the
Colorado Springs Gazette
both occupants survived, Foley breaking his leg in the crash.
Two wheels or four, the racer the Gazette quoted as saying "the mountain was angry" sounded about bang on the money.
Full results here.

---