Monday 20th August 2012
TIME FOR TEA? TRUCK-TO-TRUCK TIGHTROPE
Volvo promo film involves speeding trucks, a slackline champion and a tunnel...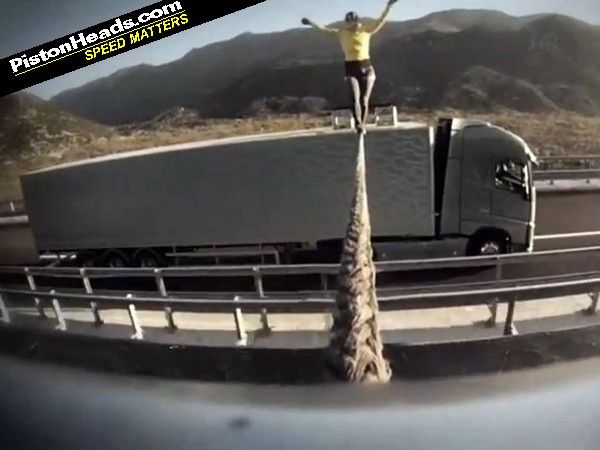 Volvo's marketing department clearly has some imaginative people working in it. To show off the new FH truck, they arranged two of them either side of a closed motorway in Croatia and persuaded world champion slackliner (a bit like tightrope walking, but on a flatter, wobblier line) Faith Dickey to walk a line from the top of one trailer to the other whilst they barrel down the road.
To add a little pressure, the trucks head towards a tunnel divided by a very immovable-looking wall, making it bad news for Faith if she doesn't make it across in time.
The 'Ballerina stunt' was coordinated by experienced stunt director Peter Pedrero with Oscar-nominated director Henry Alex Rubin behind the cameras.
According to the message at the end of the video, the stunt demonstrates the precision and control of the new FH series truck, although it seems an even greater endorsement of Ms Dickey's skills and the drivers' nerves of steel.
Time for tea then, and maybe a lie down in a darkened room afterwards.

---