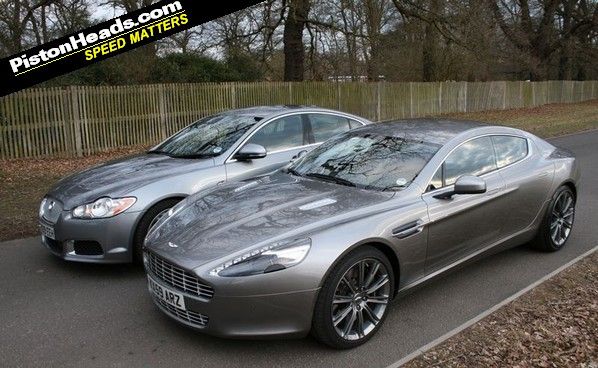 Just before we waved goodbye to
our late lamented Jaguar XFR long-termer
, we happened to get our grubby mitts on one of the first Aston Martin Rapide models to grace these shores.
If you missed it
, the Rapide turned up in a shade of metallic silver quite similar to our Jag, which inspired us to put the two side by side for a few pictures.
It's an interesting comparison in many ways, not least because the two cars offer quite different routes to a basically similar result. The Aston is a supercar that's been morphed into a luxury hatchback, while the Jaguar XFR is an executive saloon with aspirations to be a supercar.

Dimensions/construction
In spite of its coupe-like lines, the Jag is more traditionally packaged with a significantly higher roofline, and a narrower, shorter body. The Aston's extra girth and length does nothing for its accommodation, however, as the Jag offers a much roomier cabin for both front and rear passengers. However, we're guessing most people would agree that the Aston's sleek profile makes it one of the few saloons to have the big cat licked for looks.
Under the skin, the Jaguar uses a variety of modern steels and cunning CAD techniques to keep the weight down. The Aston features glued and riveted aluminium extrusions, but the combination of its overall dimensions, bigger engine and all that 'bespoke' luxury make it 60kgs heavier.
 
Aston Martin Rapide
Jaguar XFR
Length
Width
Height
Wheelbase
Kerb Weight
Drag cX

5019mm
1929mm
1360mm
1989mm
1950kgs
Good question…
4961m
1877mm
1460mm
2909mm
1891kgs
0.290
Powertrain/Performance
When 8 cylinders play 12, you might think the outcome was obvious. Not in this game, where the Jaguar's mighty supercharged V8 out-punches the Aston for both power and torque. The Aston wins on aesthetic grounds, both when you open the bonnet or when you're listening to the engine note as the V12's howl is a lot more exotic than the XFR's V8 growl. Both cars are well served by six-speed automatic gearboxes with paddleshifts and sport modes, but the Aston's rear-transaxle unit aids weight distribution.
 
Aston Martin Rapide
Jaguar XFR
Engine Capacity
Cylinders
Valves
Max Power
Max Torque
Max Speed
0-60mph
*Standing Kilometre
Combined mpg
5935cc
V12
48
470bhp@6000rpm
442lb ft@5000rpm
188mph
5.1secs
23.9/139.7 secs/mph
19
5000cc
V8
32
510bhp@6000rpm
461lb ft@2500-5000rpm
155mph (limited)
4.7secs
23.2/146.9 secs/mph
22.5
*Autocar road test figures (All others are manufacturer claims)
Rolling chassis
Both our contenders get double-wishbone suspension at both ends with anti-roll bars, and a full complement of electronic driver aids. Whereas the XFR's adaptive dampers are set up to provide little real-world difference between normal and dynamic modes, the Aston offers owners a genuinely split personality. It's a luxurious and refined cruiser or hardcore sports machine with limpet-like grip and supercar-flat cornering that could add up to a significant advantage - on a racetrack. Both feature fabulous brakes and fine steering, but the Aston wins again for ultimate feel.
Across UK roads we suspect there'd be little to separate these two flying machines for pace, but wouldn't you like to see them go head-to-head at a track day with Jaguar's Mike Cross and Aston's Ulrich Bez at the wheel. Anyone want to give us odds on the result?
 
Aston Martin Rapide
Jaguar XFR
Front Susp
Rear Susp
Front Brakes
Rear Brakes
Wheels
Front Tyres
Rear Tyres
Independent double wishbone
Independent double wishbone
390mm discs
360mm discs
20ins alloy
Bridgestone 245/40 R20
Bridgestone 295/35 R20
Independent double wishbone
Independent double wishbone
380mm discs
376mm discs
20ins alloy
Dunlop 255/35 R20
Dunlop 285/30 R20
Verdict
You pays your money, makes your choice - the money being £62,600 for the Jaguar and £139,950 for the Aston Martin. We'd tell you which one we liked the most if we could, but for once the usually agreeable PH office was split right down the middle.
But, that's a total cop-out, so I'm controversially using my casting vote to give it to the Jaguar XFR as the better all-rounder at less than half the price. Obvious, innit..?