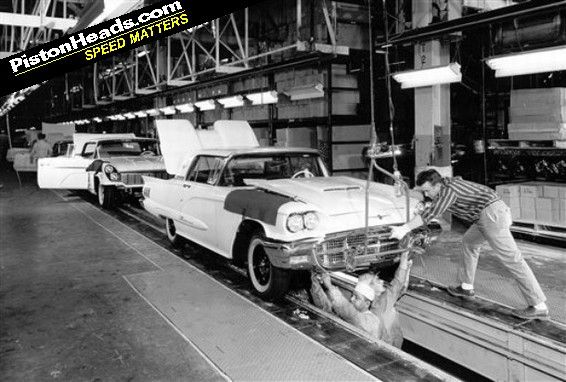 Motown.... once, this was muscle car central, all kinds of over-powered V8s pouring from the smoking factories of Detroit in the '60s and '70s. And of course, you can still buy muscle cars from America's big three, most of them even providing suspension and brakes good enough to handle all that tyre-ripping torque. But if you're looking for fresh muscle cars at
this year's Detroit Auto Show
, you're in for a bit of a disappointment. True, there is the spectacularly potent Porsche 918 RSR, whose 756bhp should do the job, but this hybrid is a concept, and there's very little to excite those obsessed with laying rubber along a quarter-mile strip of North American pavement.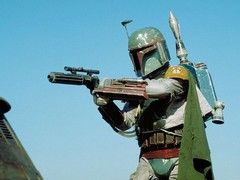 PH reporter Richard Bremner (Possibly)
So we fired up the PH time machine, and despatched motoring scribe/bounty-hunter Richard Bremner to boldly scour the space time continuum and bring us back some trophies in the form of fabulous Detroit show debuts from yesteryear.
And here it is. Our fantasy 'all time best of Detroit Auto Show' report, stuffed with the finest American performance car launches to have graced an event that started all the way back in 1907...
Cord 812 - 1937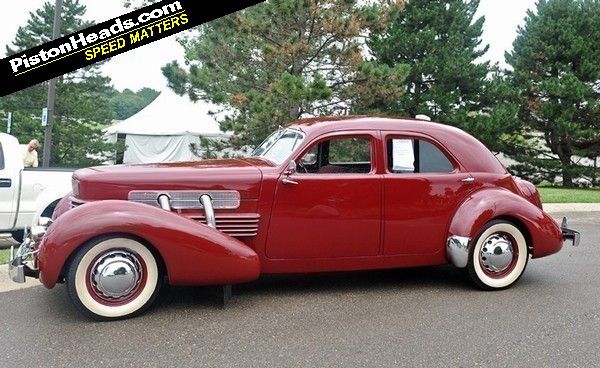 Voted the most beautiful American car of all time by American Heritage magazine in 1996, the front-wheel-drive, 'coffin-nosed' Cord was almost a pre-war supercar. The 1936 810 attracted more orders than an army unit going into combat, but reliability and production troubles had would-be buyers cancelling and Cord frantic to upgrade the car. The result was the 812, also available with a supercharger, but this wasn't enough to save the car, production stalling in 1937. Power came from a Lycoming 4.8-litre V8, which drove through a three-speed-plus-overdrive gearbox. Equipment included a radio, concealed headlights and variable-speed wipers, all major novelties back then.

*****
Chrysler 300-C - 1957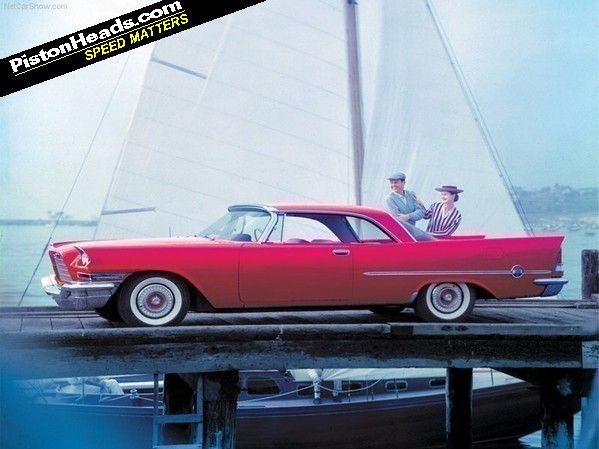 The 300-C is one of Chrysler's most admired cars, combining flamboyant Virgil Exner Sweptline styling with luxury and real potency. All-new Torsion-Aire suspension, under development since 1951, gave the 300-C excellent stability and considerable cornering power, although we'd probably be appalled by its bend-bashing talents today. But not its performance - in 390bhp Hemi form this was a quick car, knocking off the 0-60mph dash in 8.7sec. The 300-C was known as one of Chrysler's 'letter' cars, 300-C becoming 300-D for the '58 model year and so on. But it's the C that's considered by many to be the most desirable of them all.

*****
Chevrolet Corvette Sting Ray - 1963
Surely the best-looking Corvette ever, the '63 Sting Ray turned America's most famous two-seater into a real sports car with its mix of aggressively sensuous looks, perfect proportions and V8 firepower. The new look brought sophistication too, the separate chassis stiffer, the fibreglass body lighter but stronger, the rear suspension independently suspended and the brakes... well, new drums stopped it a little less slowly. But the most eye-catching feature of the '63 'Vette was the split rear window, a feature hated by chief engineer Zora Duntov but loved by GM design god Bill Mitchell. And gods generally prevail. In fact, it disappeared in '64, making a split-window '63 among the most prized of all Corvettes.

*****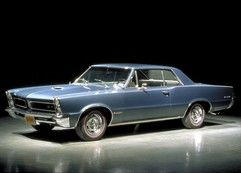 Pontiac GTO - 1964
'RPO 382' wasn't just an option number on the 1964 Pontiac Tempest price list - it was a tick-box that started an American performance car revolution. Marking it cost $295, and saw that a 389cu in V8 would be installed in your 1964 Tempest, though that nameplate was nowhere to be seen, usurped by GTO badges. The GTO also came with stiffened suspension, a four-barrel carb, a hotter cam, a Hurst shifter, redline tyres, a pair of dummy air scoops on the bonnet - and 325bhp, which was enough power to scare its driver stupid. And so began the muscle car era, kicked off by a now-dead Pontiac.

*****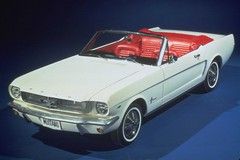 Ford Mustang - 1965
By the time the Mustang made its first appearance at the Detroit show it had already been on sale nine months and found 126,000 buyers. Ford was rushing to boost production for the car that still holds the record as the fastest-selling model of all time - during the 1965 model year, the company sold a staggering 559,451 examples. The Mustang's allure was almost entirely about styling, the original notchback and convertible amounting to little more than an inspired rebodying of the duller-than-dusting Ford Falcon. But performance was part of the appeal too, and if the base six cylinder engine offered no more than 101bhp, the famous K code 289 cu in V8 provided 271bhp. And on Mustang brakes, that was enough to give everyone a thrill.

*****
Chevrolet Camaro Z28 - 1971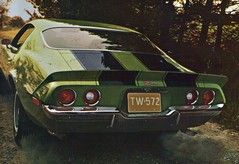 The 1970s were a disastrous time for muscle cars and American cars in general. Emission regulations smothered V8s, while Detroit's stylists experimented with looks that seemed to count wheels as after-thoughts to be hidden deep in wheelarches while they figured out how much of the roof should be sheathed with vinyl. So the early second-generation Z28 Camaro was among the last, free-breathing gasps for American performance, its 360bhp V8 good for 0-60mph times of 5.8 ripping seconds. The second-generation Camaro was as handsome as the first, its appeal strong enough to allow a 12-year production run - though by then it felt about as modern as a laundry-room mangle.

*****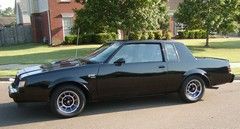 1987 Buick Regal Grand National
Lesser Regals, with their padded half-vinyl roofs and fake wire wheel covers it's easy to imagine crashing into shopping trolleys at the mall, piloted by bewildered octogenarians. But the Grand National, built to celebrate Buick's 1981 and '82 Manufacturers' Cup NASCAR wins, was about performance. Or was eventually; the first '82 editions issued a feeble 125bhp from their 4.1-litre V6s, although a few were turbocharged to 175bhp. But by 1986 the GN could be had with 245bhp, and 1987 saw the ultimate version, modified for Buick by our very own McLaren. Though quoted at 276bhp it actually produced more horses, and 360lb ft of torque that was guaranteed to make mess of your rear rubber.

*****
Oldsmobile Aerotech Quad-4 - 1987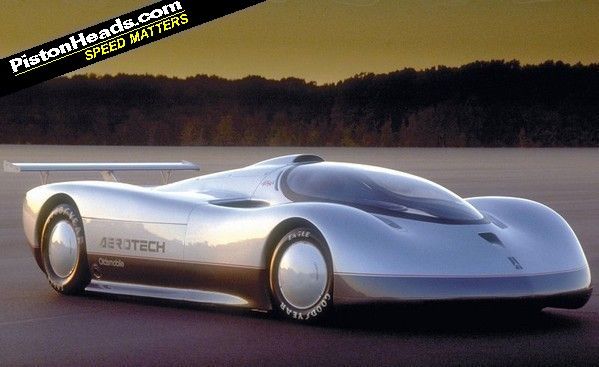 This sleek record-breaking concept was really a fully clothed March racing car powered by a 1000bhp version of Oldsmobile's new Quad 4 engine, allowing the Aerotech, which cleared the ground by just 0.5 in, to hit 268mph driven by legendary Indy 500 winner A.J. Foyt, a speed dizzying enough to trigger cardiac arrest in your typical Olds driver. The new engine turned up in the rather less sexy Oldsmobile Cutlass Supreme rag-top, though with a not unhelpful 250bhp, aided by a turbocharger. The Aerotech's body was carbon, it weighed just 727kg, and Oldsmobile followed up with another 4.0-litre V8 version in 1992 that set several high-speed endurance records.

*****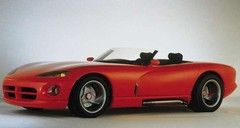 Dodge Viper R/T 10 Concept - 1989
By far the most exciting concept at the '89 Detroit show was the Dodge Viper R/T 10, built in part to distract cruel journalists from the full horror of the cars Dodge and Chrysler were actually selling, most of which had the sex appeal of long-johns. Chrysler president Bob Lutz described it as 'our idea of a modern-age Cobra.' It used a 400bhp V10 truck engine, a tubular chassis and composite body panels and, quipped Lutz, came with then-fashionable four-wheel steering - 'but you must steer the rear wheels with your right foot.' Lutz hinted at production, and Vipers were duly delivered to showrooms from 1992, complete with cheapo interiors, canvas roofs that blew off at speed - and masses of V10 grunt.

*****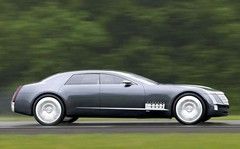 Cadillac Sixteen - 2003
Long-bonneted and elegant in a way that Cadillacs hadn't been for decades, the 13.6-litre, 1000bhp, Sixteen was a 2003 concept intended to signal Cadillac's return to the automobile world's upper echelons. Sadly we're still waiting for a Cadillac to rival a Rolls-Royce, but the Sixteen at least proved that General Motors had rediscovered the art of designing bold cars of good taste. The huge bonnet housed the V16 implied by its name, it rode on 24-inch wheels and featured fashionable rear-hinged back doors. Pillarless side windows - just the job for a glamorous drive-by shooting - an exquisitely trimmed, hand-finished interior and an engine that looked like it could have been engineered by Bugatti made one of the most impressive American concept cars for years.

*****
Corvette ZR1 - 2009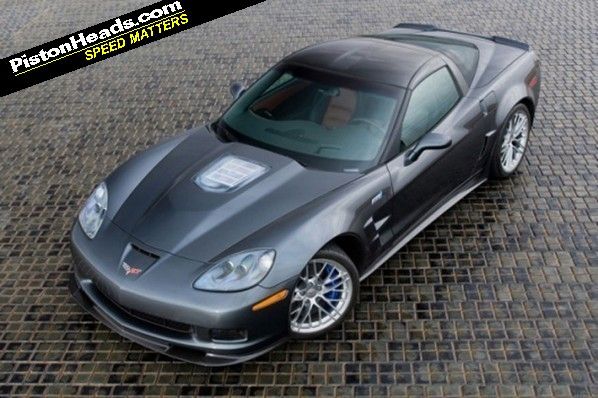 The best-performing Corvette in almost 60 years of history, the 638bhp C6 ZR1 will get you breathless with its rubber ripping performance, the torque of its supercharged 6.2-litre V8 allowing it to run from idle in sixth gear right out to 205mph. Corvettes have always managed the going quickly bit pretty well - the trouble usually comes in corners. But not in this ZR1, whose finely balanced weight and athletic suspension do a fine job of containing all that torque unless you're a right pedal addict. Those that are will be relieved to hear that its ceramic brakes make this ZR1 a lot hotter at stopping then 'Vettes used to be.

*****
Words and research by Richard Bremner