What do a Porsche 996 Turbo (X50), a Bentley Continental GT, and a Mercedes Benz SL55 AMG all have in common? They can all do 200mph (or as near as makes no difference) and can all be bought today for well-under £40,000. They aren't the only choices either...
Of course if you want something more sensible you can always buy an umbrella. There are going to be pitfalls (tyres, fuel, servicing etc.), but are we at a stage where 200mph cars are within the reach of many enthusiasts at a remotely-affordable price, and before their best years are behind them? To try and find out we took a look at a few... and indulged in a little hoonage along the way.
First of all the odd one out in our list is probably the SL55 SMG because early examples can be had for very little over twenty grand (!), so to try and keep the playing field level the cars we chose were all priced between £30,000-35,000.
Bentley Continental GT: Max speed - 198mph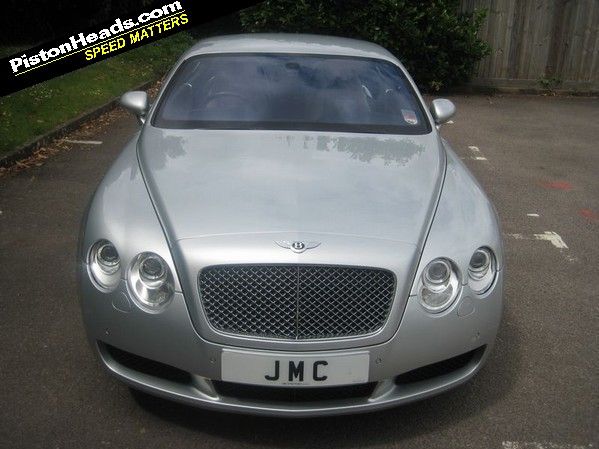 We kicked off with the Bentley Continental GT. Having had a brief play with a brand new Supersports version recently we were keen to see how a used example stacked-up.
This one is at a dealers near Stratford
and is up for £34,995. They originally bought it a year ago from Bentley Manchester and supplied it straight to one of their customers who only added about 3,000 miles before recently trading it in for a Range Rover Sport.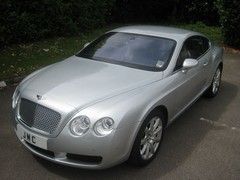 Having a good poke around it revealed that this one is wearing its seven years and 47,000 miles very well. You'll need to look hard to spot evidence of the inevitable stone-chips on its nose, whilst the rest of the bodywork shows no signs repair or any 'dings'. The outer-rim of each of the two-piece 19-inch wheels has suffered from moisture creeping underneath the lacquer, although having spoken to the dealer these will be professionally refurbished before the car finds a new owner.
On the inside it's a similar story. The only signs of any wear are where the odd well-heeled (sorry, couldn't resist...) shoe has scuffed over the kick-plate and the bottom of the door card whilst getting in and out. A curious thing has happened to the outer edge of the driver's seat bolster where the seat belt 'plug' seems to have got caught at an odd angle and had the door closed against it which has marked the seat and the corresponding area on the door, although the vendor assures us that this will be put right. Another thing you won't need to put right is the second 'hotel' battery which can give rise to electrical gremlins towards the end of its life because this one has recently been replaced.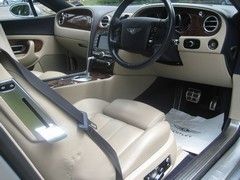 A test drive revealed nothing untoward - just flipping great ship-loads of torque delivered without any fuss. All the cars we're covering here are fast - really fast - but the Bentley is the only one that can deliver all of its performance without shouting and waving its arms about. An image problem it may have, but be in no doubt that these are astonishing cars to experience from behind the wheel.
So how about the servicing and other costs - will it skint you? Well for starters each Pirelli P-Zero will set you back £210+VAT fitted (trade price), although the good news is that the set on this car still have around 75% of their life left. Servicing is an interesting one because the last service was carried out by Volkswagen (all before that were done by Bentley), and the next one is the eight-year service which isn't due for another 9,000 miles. The only thing we know it'll need before then is a pair of rear brake pads which Rolls Royce and Bentley specialists Balmoral (Bromsgrove) quoted us £165 +VAT fitted. Not cheap, but hardly scandalous for a heavy, 200mph car.
Mercedes-Benz SL55 AMG:Max speed - 202mph (Derestricted)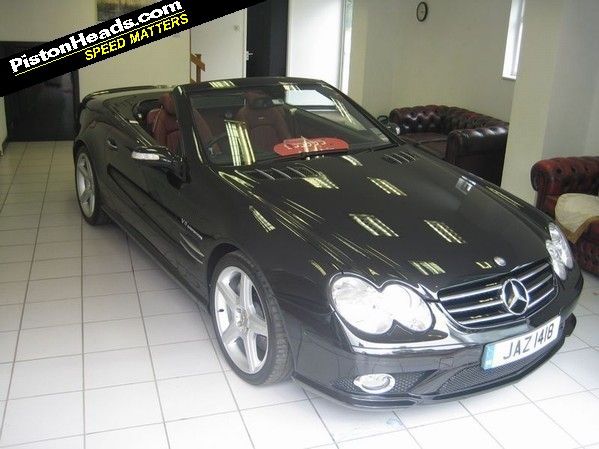 In total contrast to the Conti' was the '06 SL55 AMG we looked at next. It's
for sale at a dealer in Knutsford for £35,995
and has had 65,000 miles under its belt. It looked smart in black and with an 'oxblood' interior, and closer inspection revealed both the exterior and interior to be exceptional. The vendors have known the last owner for many years and claim that the car was professionally valeted every fortnight. In fact, the only negative we could find about its appearance is that the tyres maybe only have about 25% of their life left.
Servicing-wise all the stamps are there and the services have all been carried out on time and by a Mercedes Benz dealer, the last being done on 62,000 miles in January. The previous owner (there have been three in total) has had this car since August 08 at which time he paid just under £60,000 for the privilege and also forked-out for a full M-B 'tier-one' warranty (about £60 per month - oof!). The next service is due in another 9,000 miles time, but we're going to guess that the next owner might not bother with the M-B warranty - at least not if it's still £60 per month...
As with the Bentley a full-set of P-Zeros will set you back about a grand - although the vendors reckoned that if you were prepared to do without Pirellis and settle for, say, Continentals, that figure could be less. Surely though, we'd all only fit the best tyres we could get to a 200mph car?
Predictably this SL was drum-tight to drive and of course was fully-loaded. The difference though between this and the Bentley was huge; it's still a very comfortable place to be (at least it is for two people) and utterly docile and quiet at pedestrian speeds, but get on it and it reveals a darker side which wouldn't just get you arrested - it would get you bricked up under the Tower of London.
As the revs rise the Merc' casts aside its quiet around-town disposition and demonstrates supercar levels of noise as well as epic performance. It hurls you relentlessly forward in a more-aggressive way than the Bentley and is more rewarding in the bends, which brings us to the next car we looked at...
Porsche 996 Turbo: Max speed - 198mph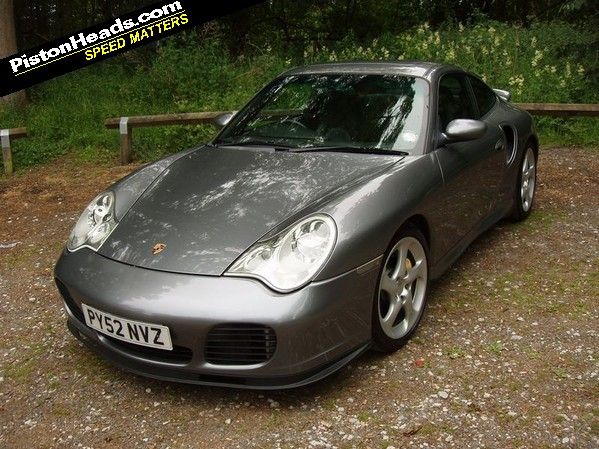 If the Bentley is luxury with performance, and the Merc' is performance with luxury, then the '02 Porsche 996 Turbo we looked at with the sought-after X50 option is performance with... well... some more performance, and with an extra performance garnish. The really good news about this car for us is that
it's for sale privately by a PH veteran
who suggested... no... who insisted that first of all we go out for a good cross-country blast to get a proper feel for his car. So off we went.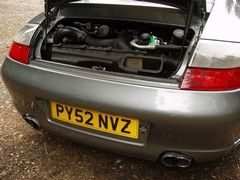 On the inside there are very faint signs of scuffing where people have climbed in and out, but aside from that there are no signs of wear or damage to any of the leather. Once underway there was no disguising the fact that the ride is... well it's not great. Sure, the whole car has been developed to deliver the goods in other areas, and it's been maintained correctly (although the dampers might need replacing before too long), but the short wheelbase and the stiff springing mean that it's a tad choppy - and very different to the ride that a 200mph Bentley provides.
But then we reached a section of road which the owner knows very well, and within less than a second we'd forgotten about the ride comfort altogether. Apparently the larger turbos that come with the X50 package cause more lag, although all we felt was near-instant, kidney-pulverising acceleration, and the kind of grip and poise that, incredibly, had us thinking 'hmmm, actually it could handle a little more power...' Drivetrain-wise, all is well then. The only negative from behind the wheel is that upon application of the brakes a slight sound could be heard from one of the calipers - which we're reliably informed is probably the metal anti-squeak plate on the back of one of the pads. Apparently they can detach after a while, although the vendor told us that if the asking price is met he'll have the car serviced at Specialist Cars in Malton and this issue will be addressed.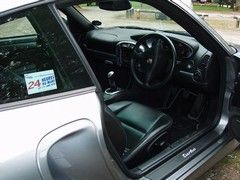 After a proper cross-country jaunt we stopped to get some pics and have a good look around the rest of the car to see how it's stood up after nine years. At the front there are only very minor signs of any chipping, and some polish-able 'grazing' on the driver's side corner of the front bumper. There is also a tiny 'trolley ding' in the off-side three-quarter panel, and the carpet in the luggage compartment would benefit from a good clean, but apart from that there's nothing else to report.
Inspecting the service history shows that this car has had a lot of money spent on it. Everything you'd hope to see is there and the paperwork from Centre Gravity in particular is a pleasure to flick-through. There's a £1500 bill from October last for example year where the car's suspension was thoroughly inspected, serviced, and set-up which shows all the individual toe, castor, and camber readings before and after the work was carried out. This is a very good 'X50' 996 Turbo, even if it is now nine years old.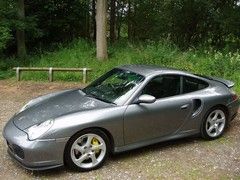 So there are three cars from different times in the last decade with three different characters that were all capable of around 200mph when new (...and still should be). But is top speed an irrelevant selling point? Is there an argument that your £30,000-35,000 would get you more pure driving pleasure if it went on, say, a three-year-old M3 instead? Perhaps, but the fact that contrasting fit and healthy 200mph cars are available for similar outlay nowadays just has to be good news, surely?
Wait, there's more...
What's more, there are other candidates like the Ferrari 550 Maranello (198mph) and the Corvette Z06 (also 198mph), but we covered the Ferrari recently in a Spotted piece and, er, we couldn't find a Z06 for sale! Look out for a Spotted on one of those when we do.
Are there any others we've missed?
| | |
| --- | --- |
| What about a 550 Maranello... | ...or a little 'ol Corvette? |