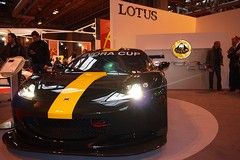 Lotus has unveiled its new Evora Cup, a racer designed to compete in the FIA GT4 championship, and a new 'one-make' series planned for later in the year.
The Evora Cup, which you can see at the Autosport show alongside the PistonHeads show this weekend at the Birmingham NEC, gets a muscular 4.0 litre version of its Toyota engine, dry-sumped and making more than 400PS. The mid mounted engine is mated to a Cima six speed sequential paddle shift dog gearbox, which is designed for international motor sport.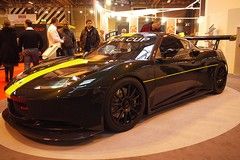 Weight of the car is down to around 1200kgs - a 200kgs saving on the road version - while a range of aerodynamic modifications developed by Dallara increase downforce and improve the cooling performance.
Various luxuries have been stripped from the car, but it will come with adjustable motor sport dampers and six piston front brake callipers, with two piece aluminium belled brake discs. The car also has an electrical cut off, fire extinguisher, traction control and is designed to have all the relevant FIA compatible motor sport equipment necessary to race.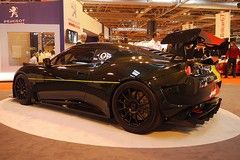 The car will cost £120,000 but successful racers may be able to win some of that back as the planned Evora Cup series will have a prize pot of at least €100k, says Lotus.
The 2010 Evora Cup series will be a European event with points initially being awarded to competitors for entering races with the points values awarded relative to Evora finishing positions. There will be five points for attending any eligible national race meeting, with five points also awarded to the first Evora to finish down to one point for the fifth.
The series will then culminate with two Lotus Festivals, with provisional dates for Donington Park in the UK (16th & 17th October 2010) and the second at Vallelunga in Italy (21st and 22nd November 2010). All the competitors from around Europe will be invited to race at these festivals and there will be double points on offer. The championship winner will be the driver who accrues the most number of points from a maximum of 6 races over the 2010 season.
In 2011, Lotus says it will introduce its own pan-European Evora Cup race series.
Pics: Alex Goy