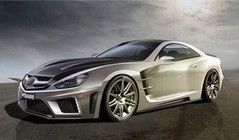 German tuner Carlsson usually earns a crust from sticking go-faster bits to Mercs, but now they've decided to have a crack at making their own car - a V12-powered, 753bhp 'Super GT' dubbed the C25.
The exotic new machine represents Carlsson's first foray into car-building, and unsurprisingly is underpinned by the best of current Mercedes-Benz technology.
Happily, this includes a 753hp V12 Biturbo as seen in several top-end Mercs including the S600, CL600 and the outrageous V12 G-Wagen. With 973 lb ft of torque on offer, according to the press guff, the new car is designed to bridge the gap between a comfortable GT and an out-and-out supercar, with an emphasis on driveability and tractability as well as raw pace.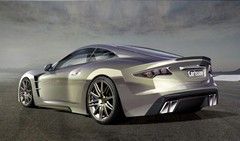 Speaking of raw pace, how does 218mph and 0-62mph in 3.7 seconds sound? Pretty fruity we imagine, as being a Carlsson the C25 will include the obligatory unsubtle exhaust system, with four custom tailpipes in neat interlocking shapes.
One major advantage to this promised tour-de-force of Mercedes tech is that the C25 can apparently be serviced by any Mercedes dealer.
Just 25 C25s will be produced, they say, and just to make it as exclusive as possible, Carlsson will only be selling one example per country at an undisclosed cost. What's more, all build slots for 2010 have been reserved already, so you can't have one even if you want it!
The striking design has only been shown to us as a set of sketches, renderings and models at this point, but we hope to bring you some real-life snaps before the car makes its debut at the Geneva Motor Show in March.