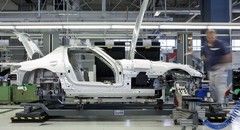 Production of the new Mercedes SLS AMG supercar has now started at Mercedes' German Sindelfingen facility.
The Uber-AMG actually starts life at the Magna Steyr factory in Austria, where the aluminium body is made - and in AMG's facility in Affalterbach, where the 571hp, 6.2-litre V8 comes together.
The bodies and engines then make their way to Sindelfingen for final assembly.
Sales of the £150k, 197mph Gullwing supercar (which PH editor Chris-R wangled a go in at Laguna Seca last year - swine) are due to start on 27 March.