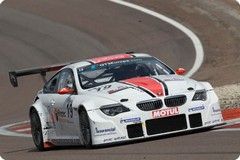 Alpina's B6 (above) PH's M6 (below)
The FIA has released the official entry list for the 2010 GT3 European Championship which kicks off at Silverstone in support of round 2 of the new GT1 World Championship in less than three weeks.
With ten different models battling for GT3 honours, and 36 cars expected to line-up for each race, it promises to be an exciting season. Here at PH we may be taking a little more interest than usual, thanks to the four Alpina B6 GT3s that are flying the flag for BMW.
Why do we care? Only because we've just taken delivery of a stunning black BMW M6 coupe as the PH test fleet flagship. Oh yes indeedy!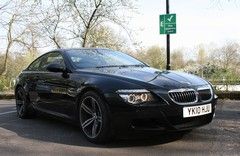 You can't park there mate, 'elf an' safety!
But so as not to appear partisan, we're happy to show you all the GT3 racing machines
as per the FIA announcement yesterday
. Racing starts as part of the Silverstone Supercar event on the weekend of May 02/03, which will also be the first chance to see international racing on the Arena Complex – the main feature of Silverstone's new Grand Prix Circuit.
Incidently, the new GT1 cars start their campaign in Abu Dhabi this weekend and you can follow all the latest action online at www.gt1world.com including live streaming of the two 60-minute races from Yas Marina, the organisers tell us.
And in case you were wondering, there'll be no GT2 European Championship this year as the organisers are trying to redefine the category for hybrid-powered racers in future seasons.
The 10 different models racing in the FIA GT3 European Championship are:
| | |
| --- | --- |
| Aston Martin DBRS9 | Audi R8 LMS |
| BMW Z4 GT3 | BMW Alpina B6 GT3 |
| Corvette Z06R GT3 | Ferrari 430 Scuderia |
| Ford GT | Ford Mustang Marc VDS GT3 |
| Lamborghini Gallardo LP560-4 | Porsche 911 GT3 R |
*PH disclaimer. These are pre-season pics, so liveries/team colours may be different in the Championship.