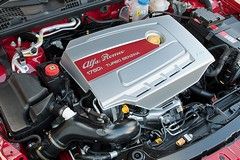 Alfa Romeo has launched a pair of new engines for its Brera and Spider models as well a new 'Italia Independent' trim level.
The 197bhp 1750 TBi petrol and 168bhp 2.0 JTDM turbodiesel were both launched last year in the Alfa Romeo 159. In a more heated form, the 1750 TBi petrol engine has also found its way beneath the bonnet of the Alfa Romeo Giulietta we drove in Italy recently.
In the Brera and Spider the new 16-valve, twin overhead camshaft 1742cc motor is good enough for 0-62mph in 7.7secs for the Brera and 7.8secs for the Spider, while both top out at 146 mph.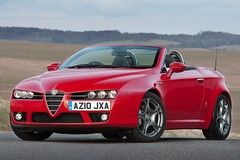 In-gear performance is where the new engine should shine brightest, however - with the new engine capable of hitting its torque peak of 236lb ft at just 1400rpm.
The new turbodiesel, meanwhile, develops its maximum torque of 266lb ft between 1750rpm and 2500rpm.
The 0-62mph sprint in the diesel is dealt with in 8.8secs in the Brera and 9.0secs in the Spider. Top speed is 135mph. Of course, the key appeal of the diesel is its tax-friendly status: CO2 emissions are reduced to just 142 g/km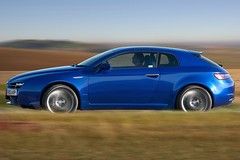 The new Italia Independent trim level gets a matt black titanium exterior finish, 18in black opaque turbine design alloy wheels, carbon fibre effect trim inserts and an in-built sat-nav system.
Stat fiends can pore over the finer technical details of the new engines with our shamelessly-stolen-from-Alfa's-press-release tech spec below.
TECHNICAL SPECIFICATIONS
ALFA BRERA
Characteristics  
1750 TBi
2.0 JTDM
No of cylinders, arrangement
4 in line, transverse front mounted
4 in line, transverse front mounted
Bore x stroke (mm)
83 x 80.5
83 x 90.4
Displacement (cc)
1742
1956
Compression ratio
9.5 : 1
16.5 : 1
Max power output bhp (kW-EC) at rpm
200 (147) 5000
170 (125) 4000
Peak torque Nm(kgm-EC) at rpm
320 (32.7) 1400
360 (36.7) 1750
Timing system
2 OHC, 4 valves per cylinder, variable valve timing, direct injection Belt drive, roller rocker arms
2 OHCs (toothed belt), hydraulic tappets, 4 valves per cylinder, MultiJet direct injection with turbocharger and intercooler
Fuel feed
Direct injection with turbocharger integrated with ignition, scavenging functional mode
Bosch EDC 16C39 electronic engine management system
ELECTRICAL SYSTEM (12V)  
Battery: capacity (Ah) / Generator (A)
90/120
90/100
TRANSMISSION  
Drive
Front
Front
Number of gears Final ratio
6 + 1R - 3.545
6 + 1R - 3.545
TYRES  
Standard version
225/50 R 17
225/50 R 17
STEERING SYSTEM  
Steering system
Rack and pinion with power steering
Rack and pinion with power steering
Steering diameter kerb-to-kerb m)
10.7
10.7
SUSPENSION  
Front
Independent with double wishbones and anti-roll bar anchored via ball joints
Independent with double wishbones and anti-roll bar anchored via ball joints
Rear
Independent with Multilink design
Independent with Multilink design
BRAKES – (DISCS)
Front (mm)
Ventilated 330 x 28 D, fixed aluminium calliper with four 42 mm pistons
Ventilated 330 x 28 D, fixed aluminium calliper
with four 42 mm pistons
Rear (mm)
Solid 292 x 22 D, combined 42 mm floating calliper
Ventilated 292 x 22 D, combined 42 mm floating calliper
WEIGHTS – TANK CAPACITY
Fuel tank (l)
70
70
Kerb weight DIN (kg)
1430
1480
Max towable weight (kg)
1450
1500
PERFORMANCE
 
 
Top speed mph (km/h)
146 (235)
135 (218)
Acceleration (driver + 30 kg) 0-62 mph (s)
7.7
8.8
0-1000 m (s)
28.9
30.2
FUEL CONSUMPTION – EMISSIONS*
urban cycle mpg (l/100 km)
23.9 (11.8)
39.8 (7.1)
extra-urban cycle mpg (l/100 km)
47.1 (6.0)
64.2 (4.4)
combined cycle mpg (l/100 km)
34.9 (8.1)
52.3 (5.4)
Exhaust emissions – CO2 (g/km)
189
142
Emissions Standard
Euro 5
Euro 5
 
 
 
ALFA SPIDER
 
 
 
 
 
Characteristics
1750 TBi
2.0 JTDM
No of cylinders, arrangement
4 in line, transverse front mounted
4 in line, transverse front mounted
Bore x stroke (mm)
83 x 80.5
83 x 90.4
Displacement (cc)
1742
1956
Compression ratio
9.5 : 1
16.5 : 1
Max power output bhp (kW-EC) at rpm
200 (147) 5000
170 (125) 4000
Peak torque Nm(kgm-EC) at rpm
320 (32.7) 1400
360 (36.7) 1750
Timing system
2 OHC, 4 valves per cylinder variable valve timing, direct injection Belt drive, roller rocker arms
2 OHCs (toothed belt), hydraulic tappets, 4 valves per cylinder,
MultiJet direct injection with turbocharger and intercooler
Fuel feed
Direct injection with turbocharger integrated with ignition, scavenging functional mode
Bosch EDC 16C39 electronic engine management system
ELECTRICAL SYSTEM (12V)
Battery: capacity (Ah) / Generator (A)
90/120
90/100
TRANSMISSION
Drive
Front
Front
Number of gears Final ratio
6 + 1R - 3.545
6 + 1R - 3.545
 
 
 
TYRES
Standard version
225/50 R 17
225/50 R 17
STEERING SYSTEM
Steering system
Rack and pinion with power steering
Rack and pinion with power steering
Steering diameter kerb-to-kerb m)
10.7
10.7
SUSPENSION
 
Front
Independent with double wishbones and anti-roll bar anchored via ball joints
Rear
Independent with Multilink design
BRAKES – (DISCS)
Front (mm)
Ventilated 330 x 28 D, fixed aluminium calliper with four 42 mm pistons
Ventilated 330 x 28 D, fixed aluminium calliper with four 42 mm pistons
Rear (mm)
Solid 292 x 22 D, combined 42 mm floating calliper
Ventilated 292 x 22 D, combined 42 mm floating calliper
WEIGHTS – TANK CAPACITY
Fuel tank (l)
70
70
Kerb weight DIN (kg)
1490
1540
Max towable weight (kg)
1450
1500
PERFORMANCE
 
 
Top speed mph (km/h)
146 (235)
135 (218)
Acceleration (driver + 30 kg) 0-62 mph (s)
7.8
9.0
0-1000 m (s)
29.2
30.5
FUEL CONSUMPTION – EMISSIONS*
urban cycle mpg (l/100 km)
23.7 (11.9)
39.8 (7.1)
extra-urban cycle mpg (l/100 km)
46.3 (6.1)
64.2 (4.4)
combined cycle mpg (l/100 km)
34.5 (8.2)
52.3 (5.4)
Exhaust emissions – CO2 (g/km)
192
142
Emissions Standard
Euro 5
Euro 5
*according to 1999/100EC directive