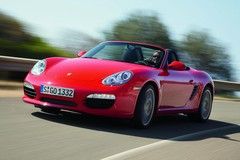 Porsche has today unveiled plans to create a fully electric sports car based on the Boxster roadster.
"The tests begin early 2011," says Porsche, "and will help research user behaviour and the infrastructure necessary for electro-mobility".
As part of the 'Modellregion Elektromobilitšt' programme in Stuttgart Porsche will build three electric Boxster prototypes in order to test electric components and battery systems, as well to help provide an insight into what users want and precisely what will be required to create an effective electric car infrastructure.
"We will definitely be offering an electric sports car in future," says Michael Macht, CEO of Porsche AG. "But such a concept only makes sense if it offers performance and a cruising range comparable to that of a sports car today."
Porsche is also keen to insist that it will continue its development of hybrid technology, including the Cayenne and Panamera - and more than likely the 918 Spyder supercar...