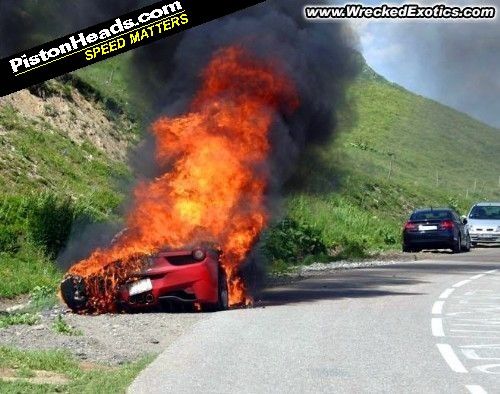 Ferrari is taking seriously reports that several of its latest 458 models have burst into flames, and has started an investigation.
We have no idea whether there's a real problem or not, but the story has been whipped up on the internet as a result of a few flaming 458s reported on wreckedexotics.com. (We try not to go there often, to spare your pain...)
The Daily Mail picked up the story today, and broadened its scope by amusingly suggesting the 458 'is being plagued by a mystery jinx' as several of the cars have crashed as well. The Mail say there's no technical fault to blame, however even Autocar couldn't resist running an item in its generally more sober style, and has quoted a Ferrari statement thus:
"The company is currently investigating the particular incidents in which cars have apparently been involved in a vehicle fire, and it is currently treating these as separate incidents. Until these investigations are complete, Ferrari is unable to provide any further comment."
Fortunately, PHers are free to comment liberally even without being in possession of all the facts(!), but whatever the truth of the matter, it's not great PR for the Prancing Horse, is it?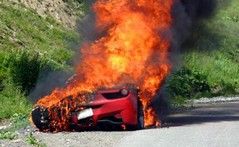 Mind you, at least a fire in a metal Ferrari need not necessarily be terminal. Carbon fibre fires are a different story, at least according to one race team manager I spoke to recently who reckoned heat damage does something to the resins that makes it unstable and therefore fit only for scrap. (Can anyone out there tell us more?)
It could be food for thought for anyone thinking about a TPF&T insurance policy on a new MP4-12C...